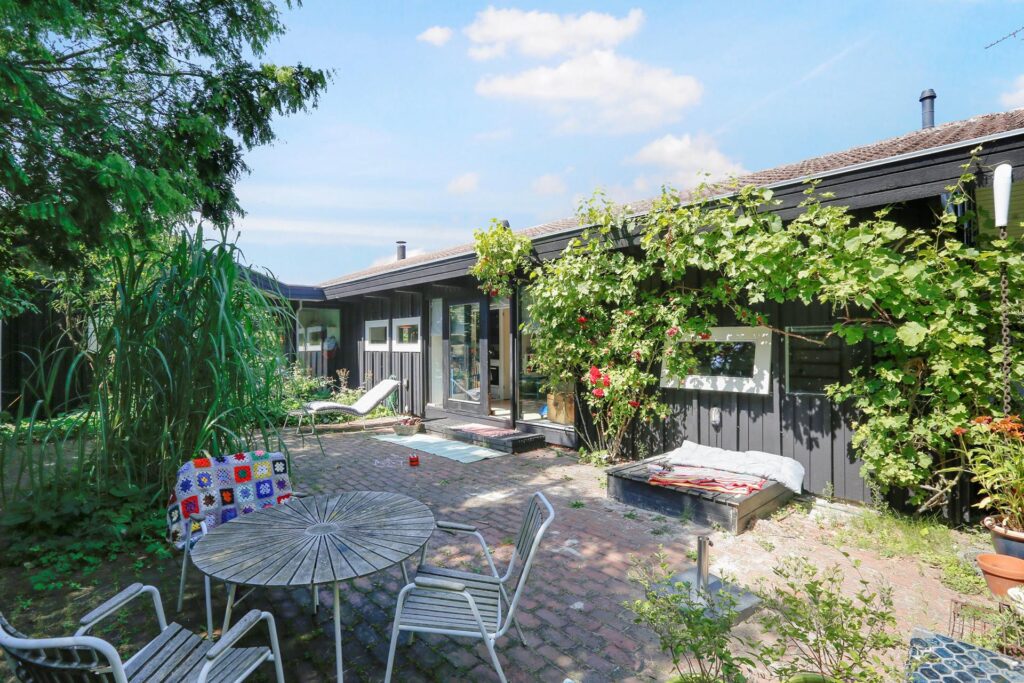 DRØMMEN OM DEN TILBAGELÆNEDE LIVSNYDERTILVÆRELSE KENDER VI VIST ALLE? Men det er i realiteten de færreste, der tør eller kan leve drømmen ud – som bohéme. Ser man i de fleste boligmagasiner, er der fine eksempler på boliger, der afspejler denne livsform, men for det meste synes jeg, det i realiteten ligner det stik modsatte – en iscenesættelse der skal vise andre, at man er i stand til at leve som tilbagelænet livsnyder. Hermed bliver det sådan set en art antitese til det at være Boheme, som netop handler om frihed fra penge og småborgerlig moral, samt ikke mindst en hyldest til det æstetiske liv. I denne arkitekttegnede bolig i Dragør hælder jeg nok mest til, at der rent faktisk bor en vaskeægte bohéme-familie. Huset er fra 1976.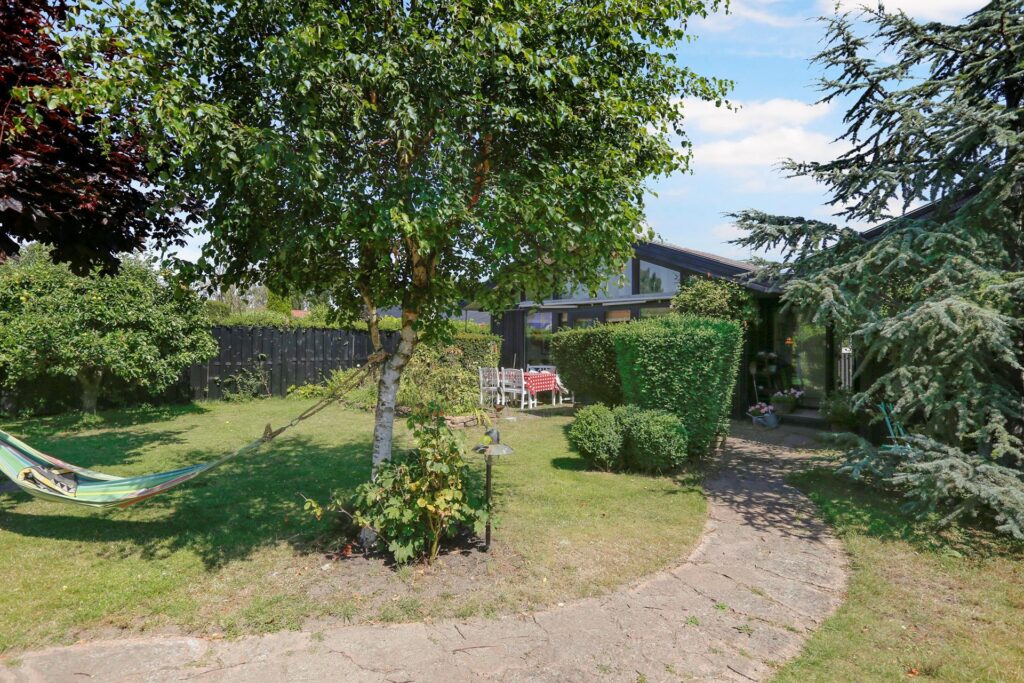 Hus og have flyder sammen og understøtter hinanden rumligt. Dvs. at husets indre rum er knyttet sammen med havens rum, så de supplerer hinanden. Havens vægge består ikke af forarbejdet træ og gips, men planter – og akkurat som huset afspejler haven en vilje til det gode liv. Væk er den borgerlige velsprøjtede og -trimmede have og i stedet er det frodigheden, der får lov at spire frem. Stemningen er næsten sommerhusagtig. (læs indlægget 'Fri på Mols'.)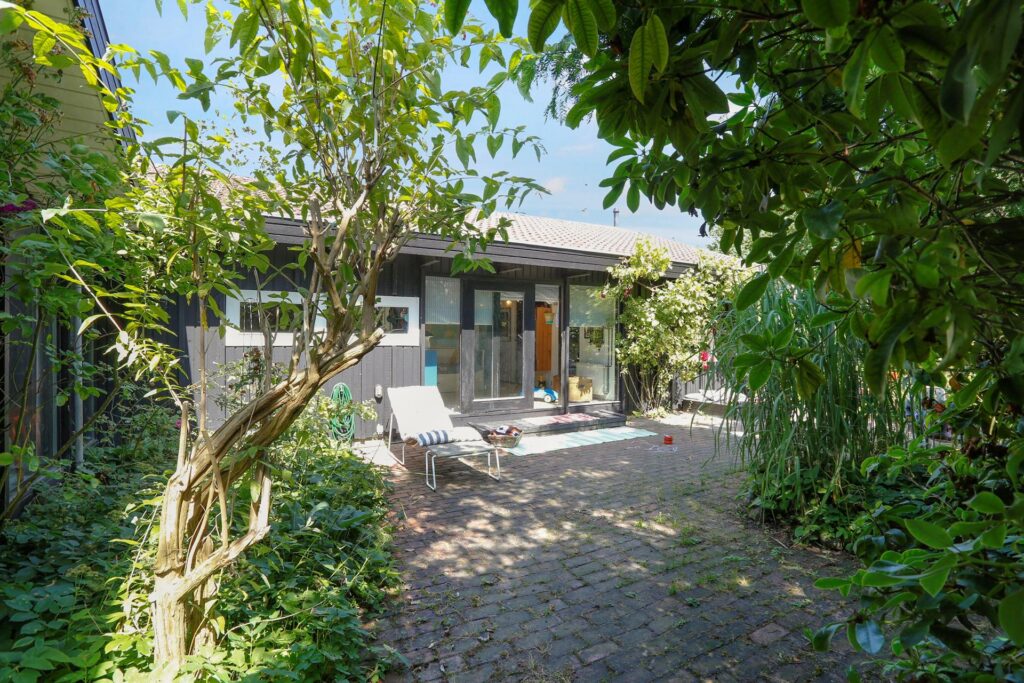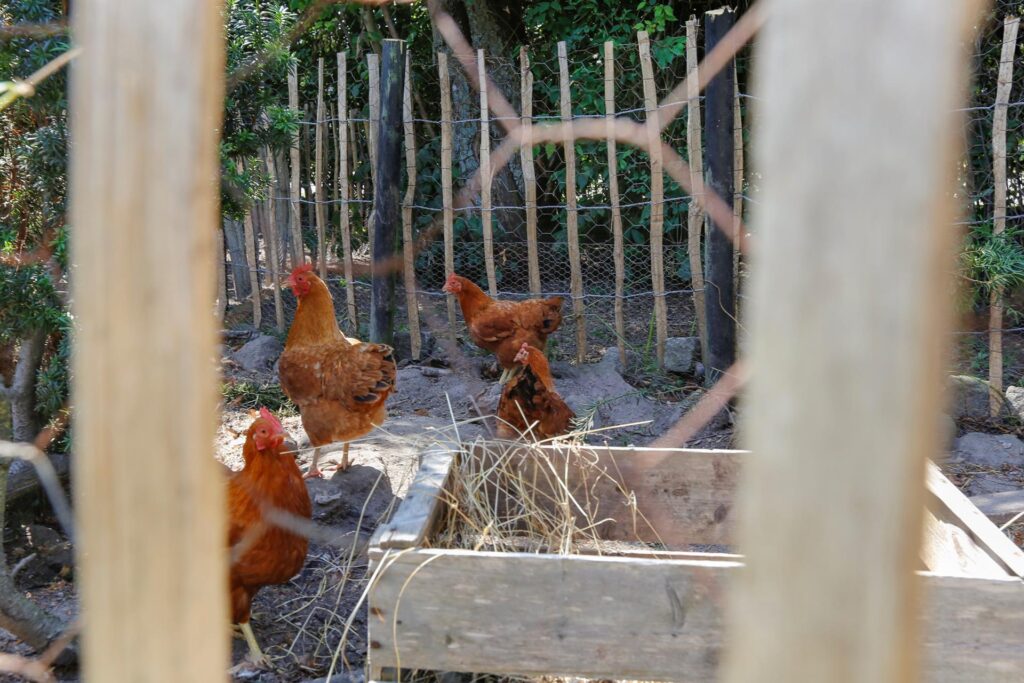 Husets indre arkitektur er egentlig ret neutral. Rummene er hvidmalede, og gulvet er lyst. De fritlagte spær giver en god rumhøjde og sætter lidt fut i den arkitektoniske oplevelse. Det der virkelig sparker til oplevelsen er indretningen (som man nok ikke kan købe med…)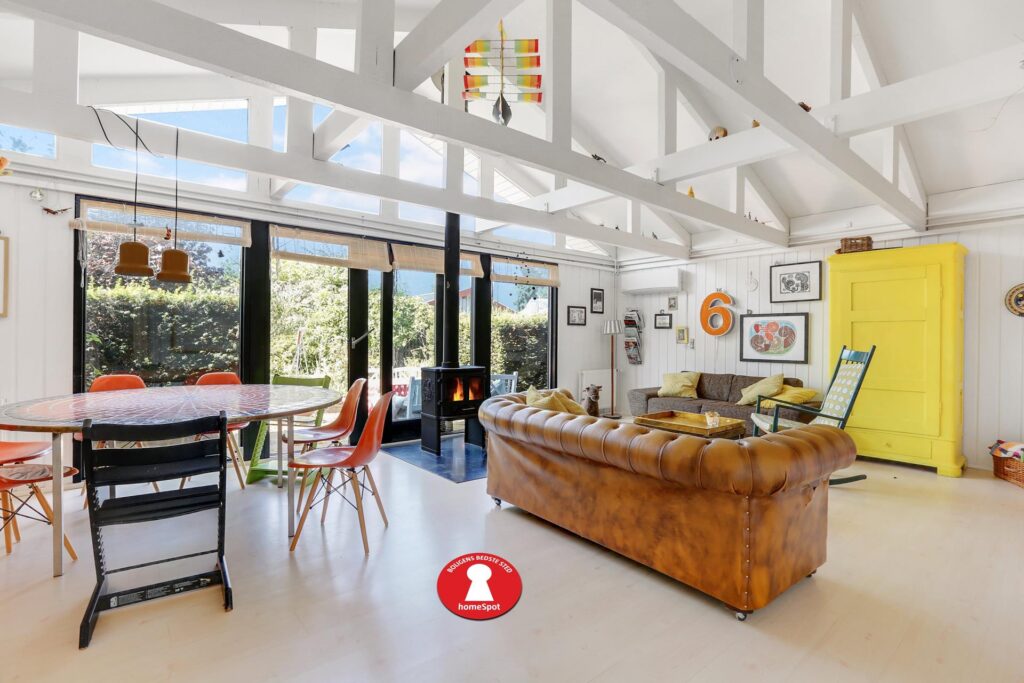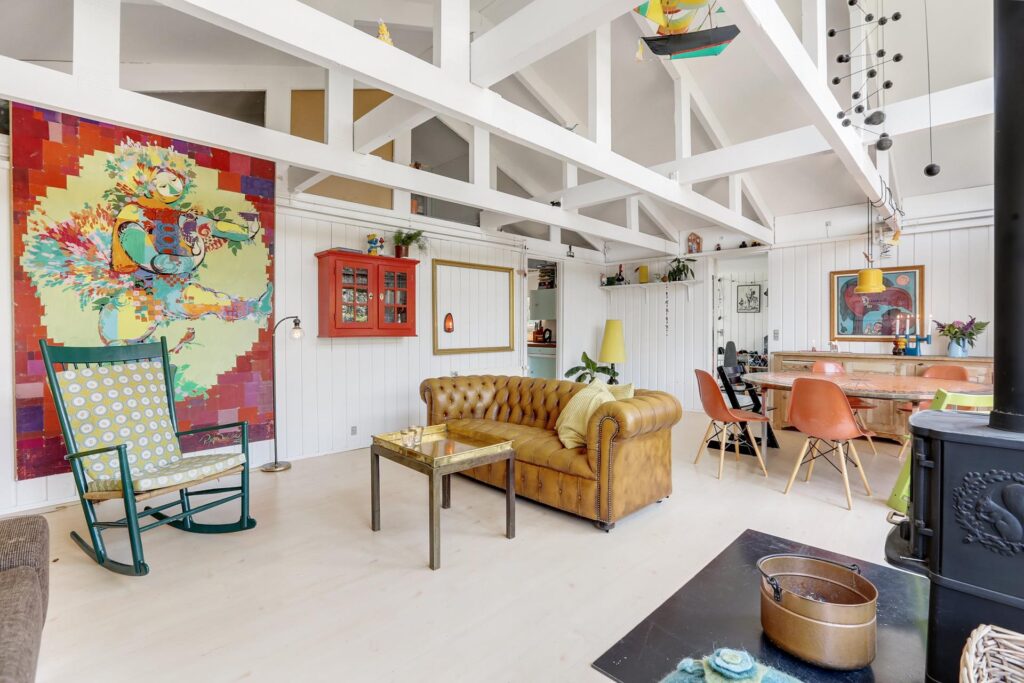 Husets indretning er et fantastisk godt eksempel på, at hvide rum (som vi har en forkærlighed for i Skandinavien) kan anvendes som lærred for møblering. Når jeg påstår, at der kunne være tale om en vaskeægte boheme-familie her, er det fordi indretningen på en gang virker tilfældig og 'boligmagasin-fremmed', samtidig med at der er en fantastisk harmoni i rummet, der antyder en helt bevidst indretningsstrategi og -holdning….Jeg synes det er kanonflot. Men døm selv…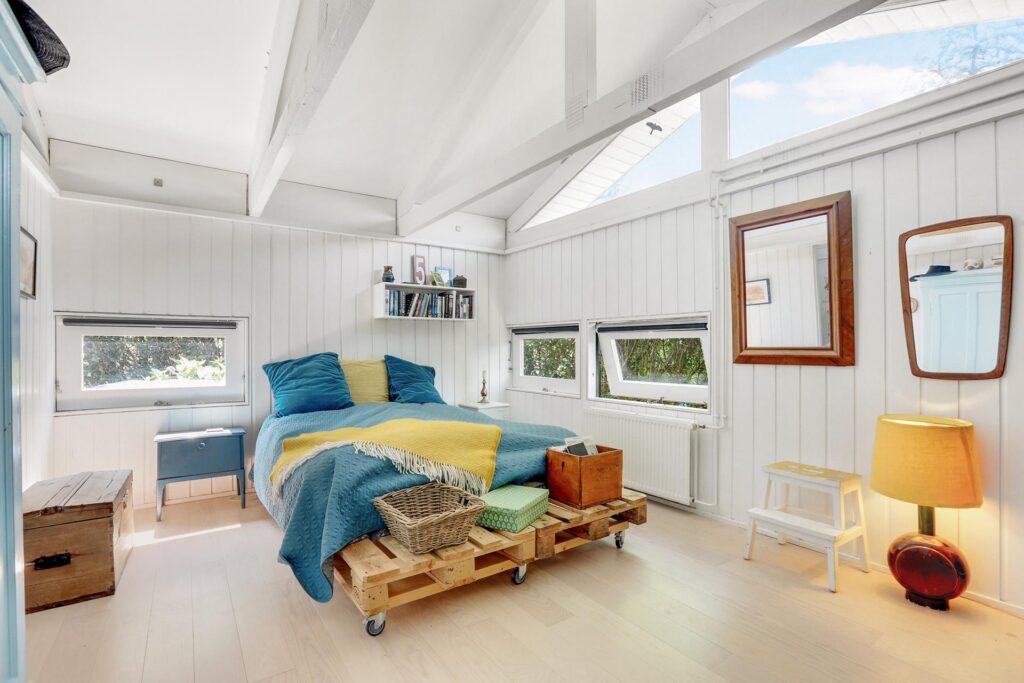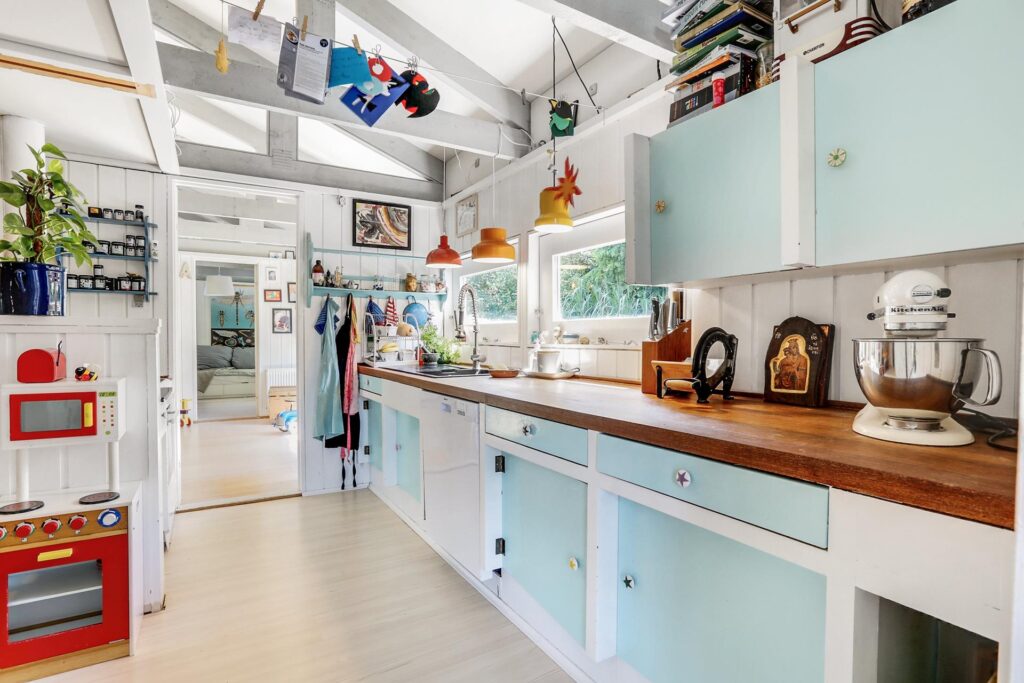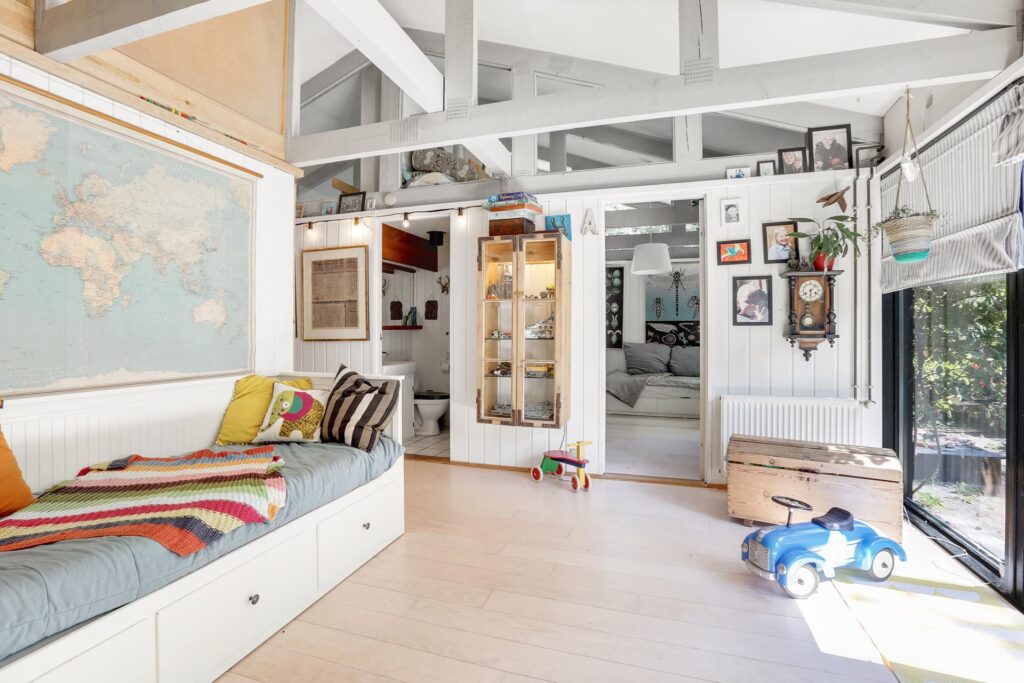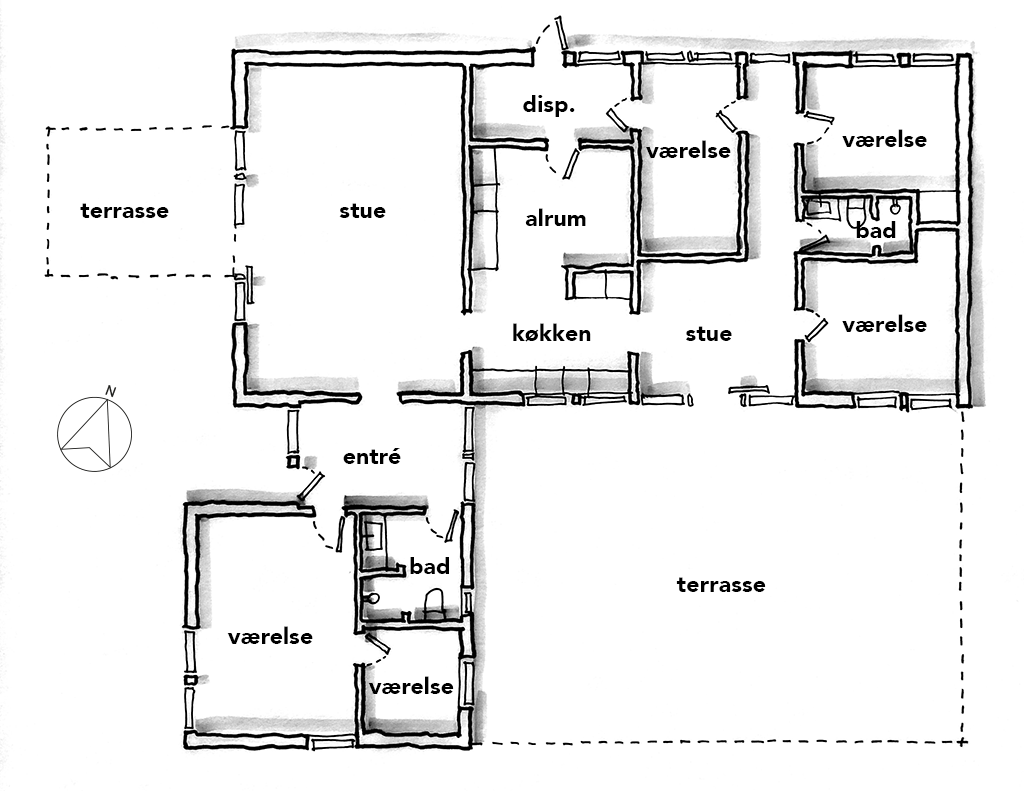 Planskitse af husets 157m2. Der findes desuden 3 hemse, der giver lidt ekstra plads i huset.
Alle foto i indlægget er fra ovennævnte mægler.
Se husets placering på Google Maps: