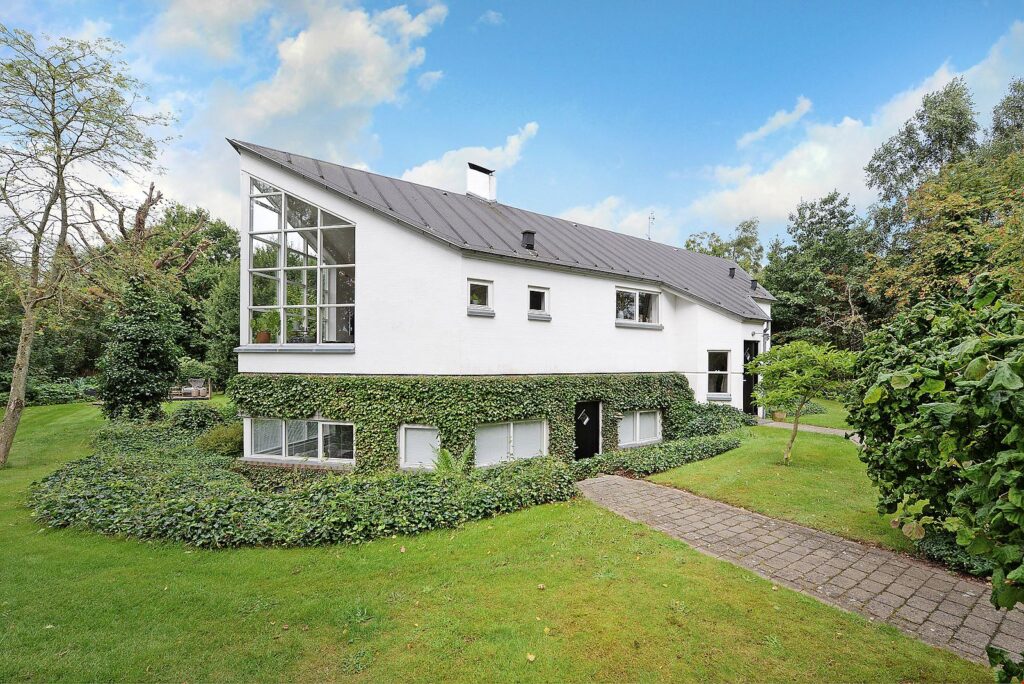 "Postmoderne funkis" synes jeg bedst beskriver arkitekturen i dette hus. Huset ligger i Faldsled på Sydfyn og er opført i 1995 lige på bagkanten af den mest festlige postmoderne periode. Mange husker sikkert lyseblå søjler og skakternet gulv….. Fra midt 90'erne og frem blomstrede der en nymodernistisk stemning frem i arkitekturen, med inspiration fra 50'erne og 60'ernes stramme minimalistiske arkitektur (hvilket egentlig også er postmoderne… 🙂 Det er alt sammen stilistiske citater og elementer fra en tidligere historisk epoke omsat og sammensat til en nutid, hvor alle kneb gælder.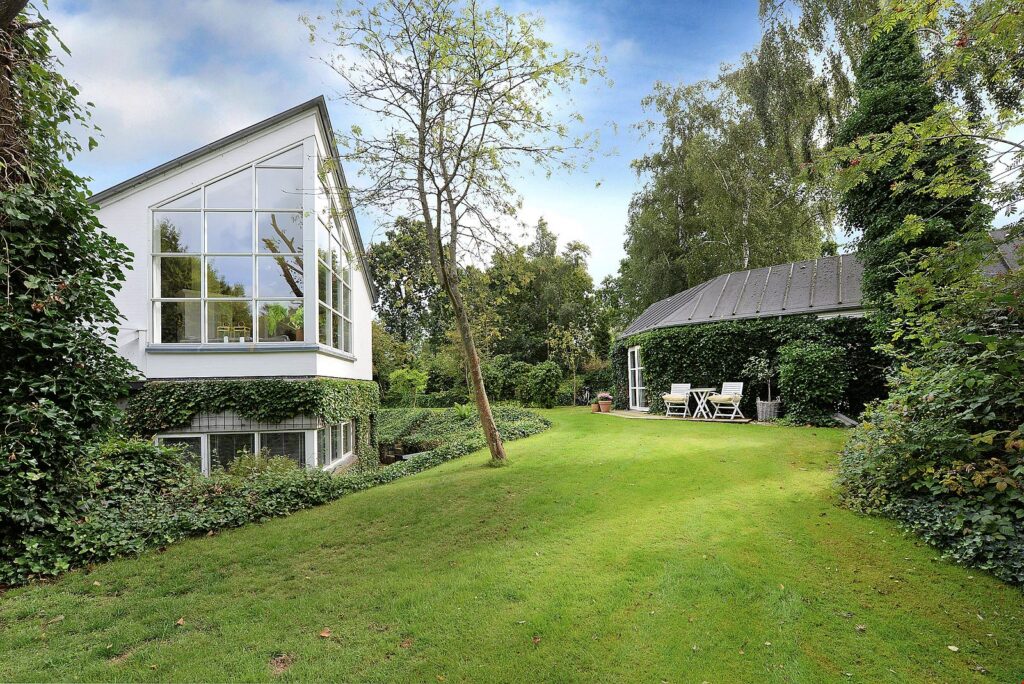 I realiteten kunne jeg bare nøjes med at klassificere dette hus som postmoderne, men jeg synes, at det er nogle ret klare funkis elementer, der leges med. Der er et maritimt tema med husets skibsform og den hvide bygningskrop. De store vinduer har også klare referencer til det 20. århundredes tidlige industriarkitektur. Så på den måde er der en klar æstetisk reference til funktionalismens arkitektur. Synes jeg.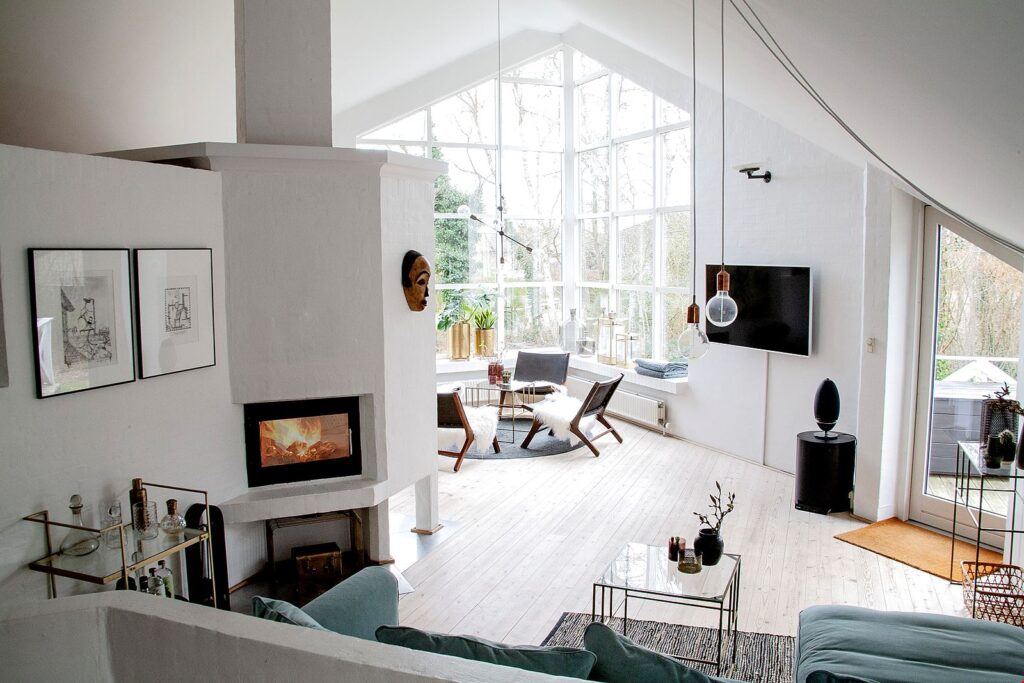 Et af de tydelige postmoderne arkitektoniske greb, der er karakteristisk for dette hus er de mange 45 graders diagonale vægge i en ellers overvejende retvinklet planløsning (Se plantegningen længere nede i indlægget). Det skaber næsten indtrykket af at der er to kæmpende planer lagt over hinanden. Meget typisk postmoderne at skabe en usikkerhed/dialog i bygningen for at vise at arkitektur ikke er et rationelt vinkelret sprog som modernismen kunne give indtryk af. Læg mærke til at pejs og skorsten 'drejer' 45grader ud i rummet og faktisk står vinkelret mod ydervæggen overfor. Samme historie i køkkenet på fotoet nedenfor. Der er 'gang i planen'…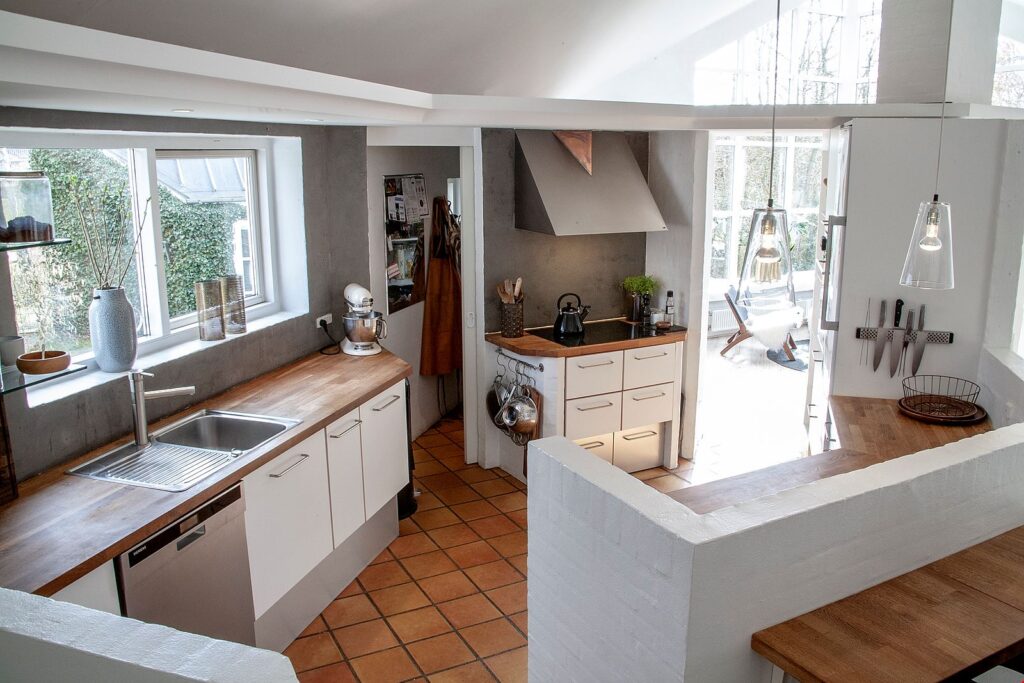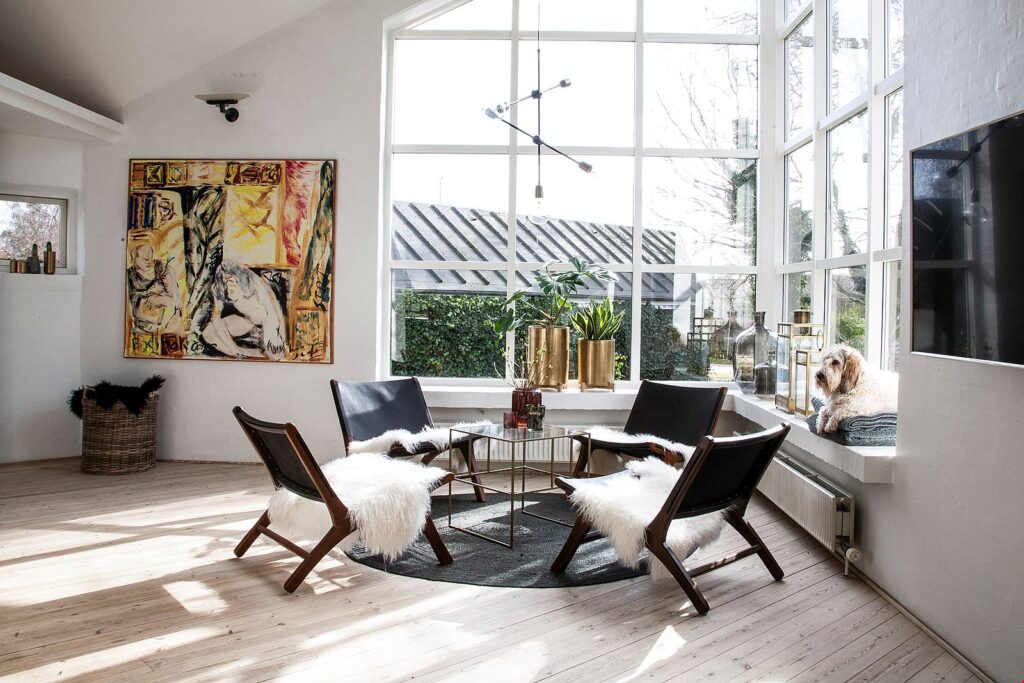 Det er da et superflot vindue. Næsten helt atelier-agtigt.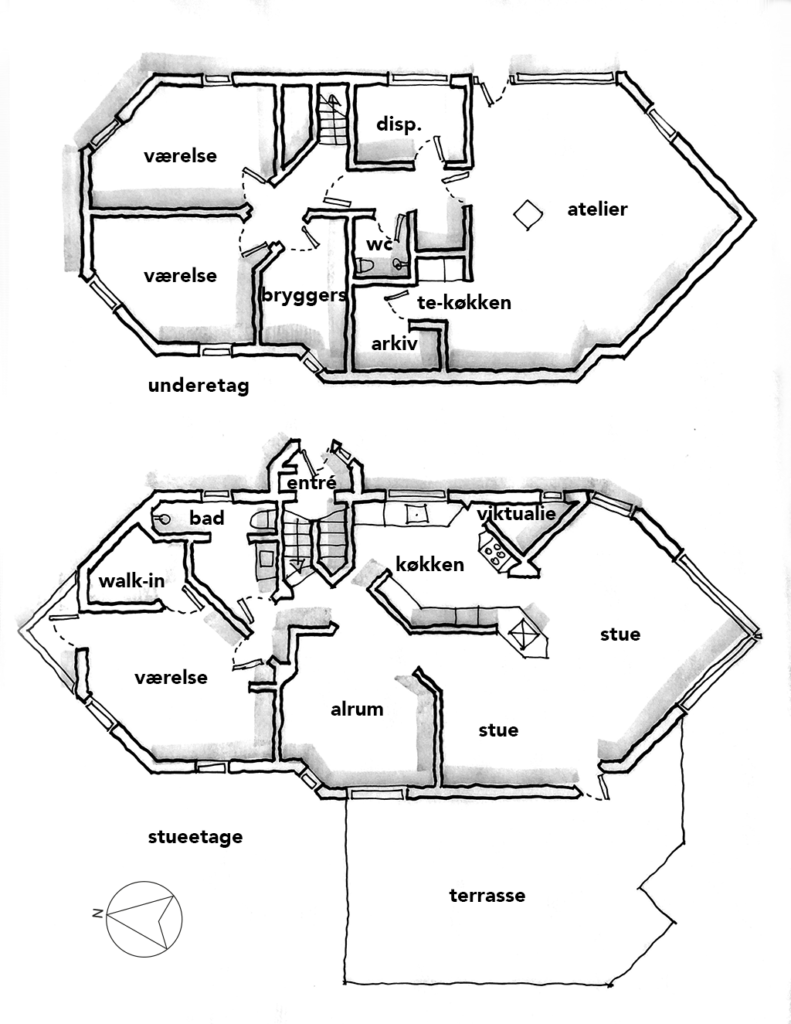 Planskitse over husets to etager på ialt 222m2. Der er også et anneks til huset. Dette er ikke med på plantegningen.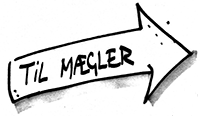 Huset er til salg hos Robinhus-Mægler Niels Thorsen
Alle foto i indlægget er fra ovennævnte mægler
Se husets placering på Google Maps: