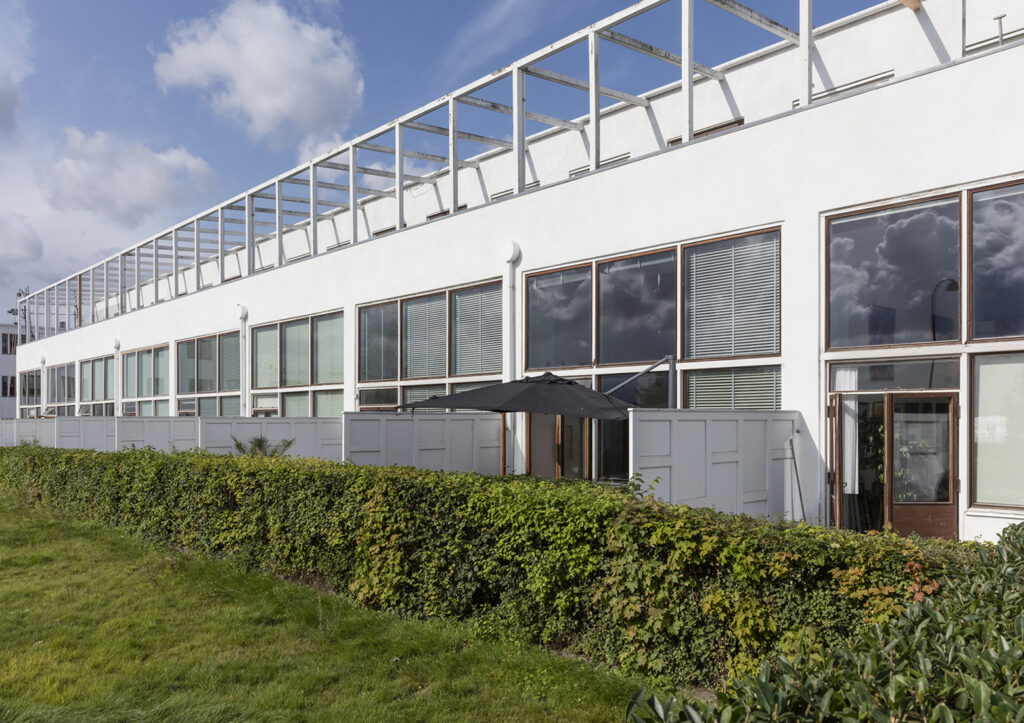 ARNE JACOBSEN – DET VAR JO HAM MED ÆGGET, SVANEN OG MYREN….
Jep – men han var så meget mere end det. Eksempelvis var han arkitekten bag Aarhus Rådhus fra 1941, SAS Royal Hotel i København fra 1960 og ikke mindst Bellevue teatret fra 1936. Lejligheden her ligger netop i en del af det oprindelige teaterkompleks, der en gang indholdte restaurant og dansesal. Desværre kunne teaterkomplekset ikke løbe rundt, og det meste af restaurantdelen blev derfor omdannet til lejligheder i begyndelsen af 1950'erne. Teatret har heldigvis oplevet en renaissance efter nogle omtumlede år som bl.a. biograf. I dag fungerer teateret igen som – teater.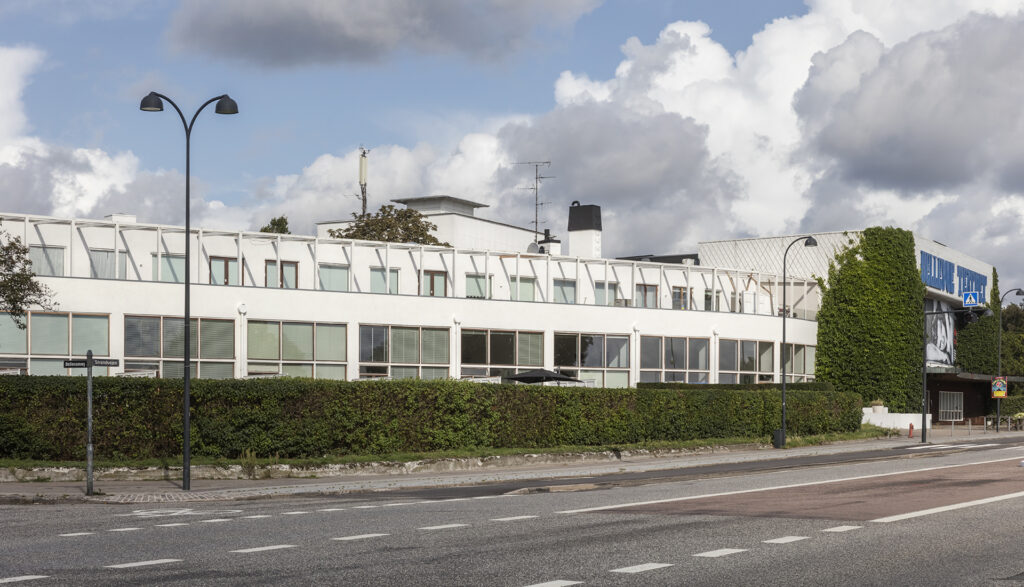 Når man ser på Bellevuekomplekset fra Strandvejen, kan man godt se ledetråde tilbage til en modernistisk arkitektur inspireret af bl.a. de store dampskibe. Det var en let, åben og lys maritim arkitektur, der stod i kontrast til den tunge, mørke og lukkede historicistiske arkitektur. Ofte stod modernismens arkitektur også i modsætning til den lokale byggeskik og fik derfor betegnelsen den internationale stil.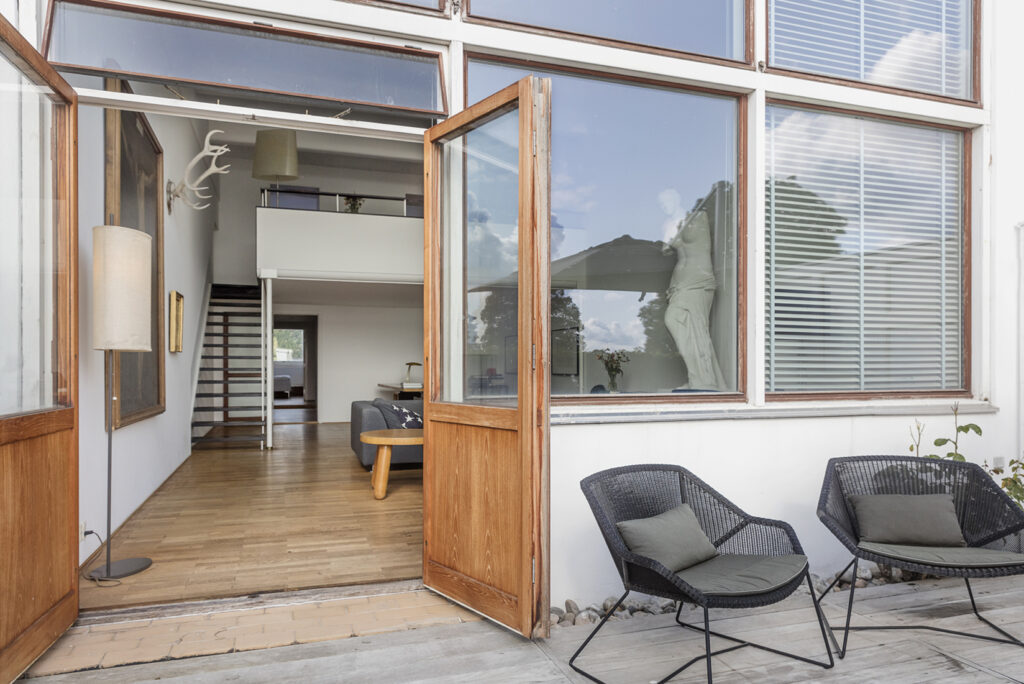 Kigger man ind i lejlighederne, kunne man næsten forledes til at tro, at man befandt sig på en atlanterhavsdamper i 1930erne. Alt er hvidt uden ornamentik og umiddelbart næsten funktionelt blæst for pynt. Man kunne i bedste funktionalistiske ånd fristes til at tro, at der ingen æstetiske ambitioner lå bag denne arkitektur. Men intet kunne være mere forkert. Det var blot en æstetik, der ikke tog udgangspunkt i en overlæsset ornamentik sat uden på bygningsstrukturen, men der imod en æstetik der interesserede sig for bygningsstrukturens form og materialitet. Døgnets skiftende lys på de glatte, skarpskårne hvide flade. Arkitektur som en skulptur modsat et dekoreret skur. 🙂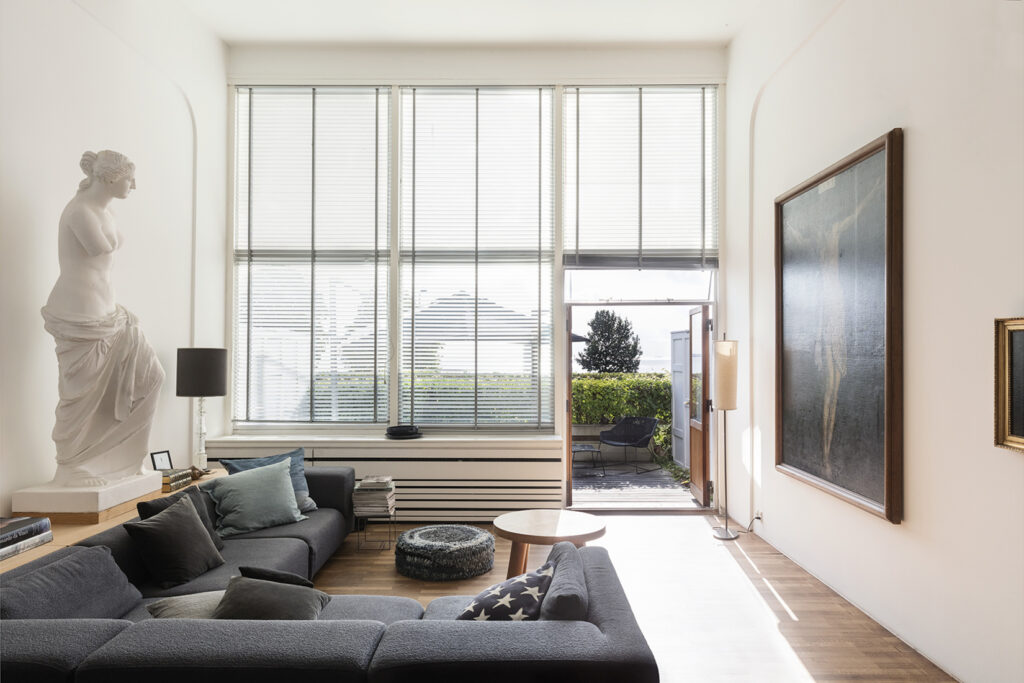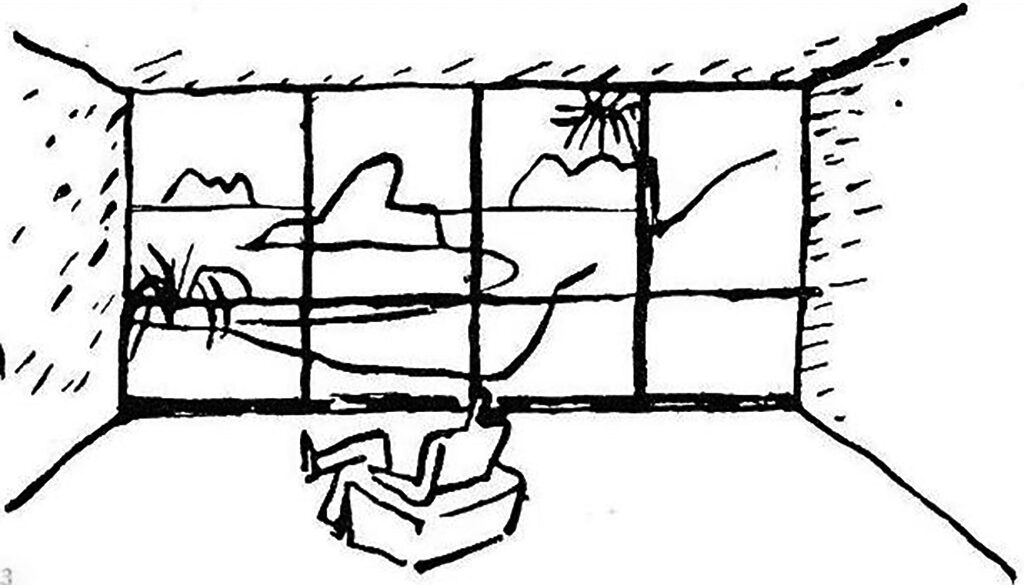 Arne Jacobsens inspiration fra Le Corbusier er svær at overse…. Tegningen er Le Corbusier's skitse af en mand der beundre udsigten over Rio De Janeiro. Teksten til tegningen: The whole sea-land-scape enters your room. (Le Corbusier and De Pierrefeu "Home of Man", 1948: 87).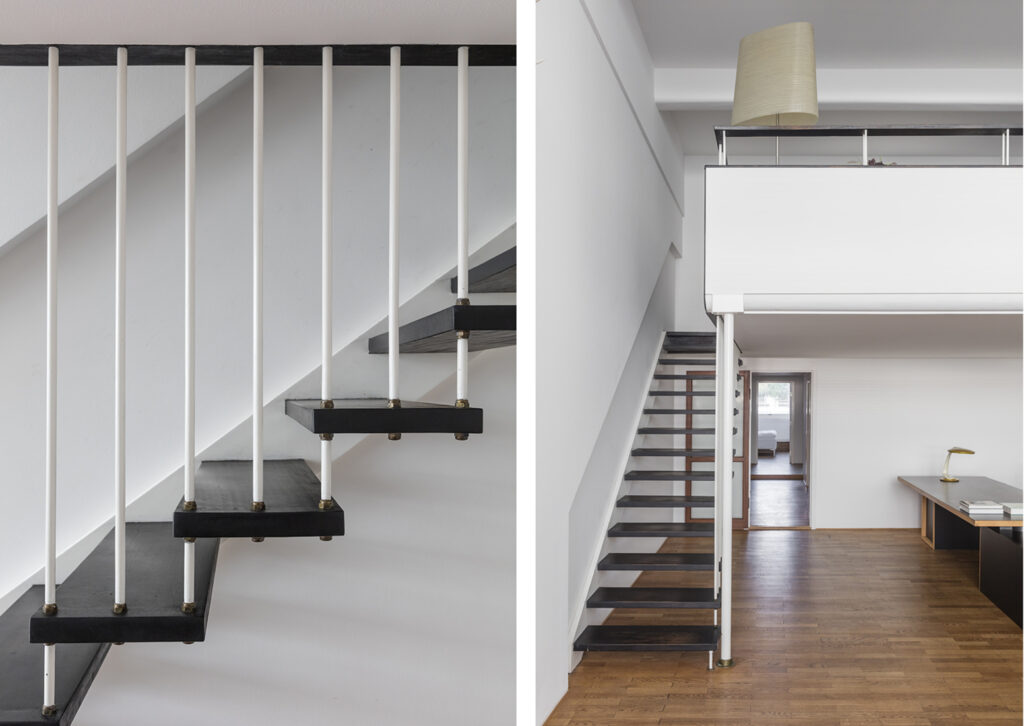 Lejligheden rummer mange fine detaljer, hvilket er kendetegnende for mange gode funktionalistiske byggerier. Der var en kærlighed til detaljerne blandt arkitekterne og i særdeleshed hos Arne Jacobsen.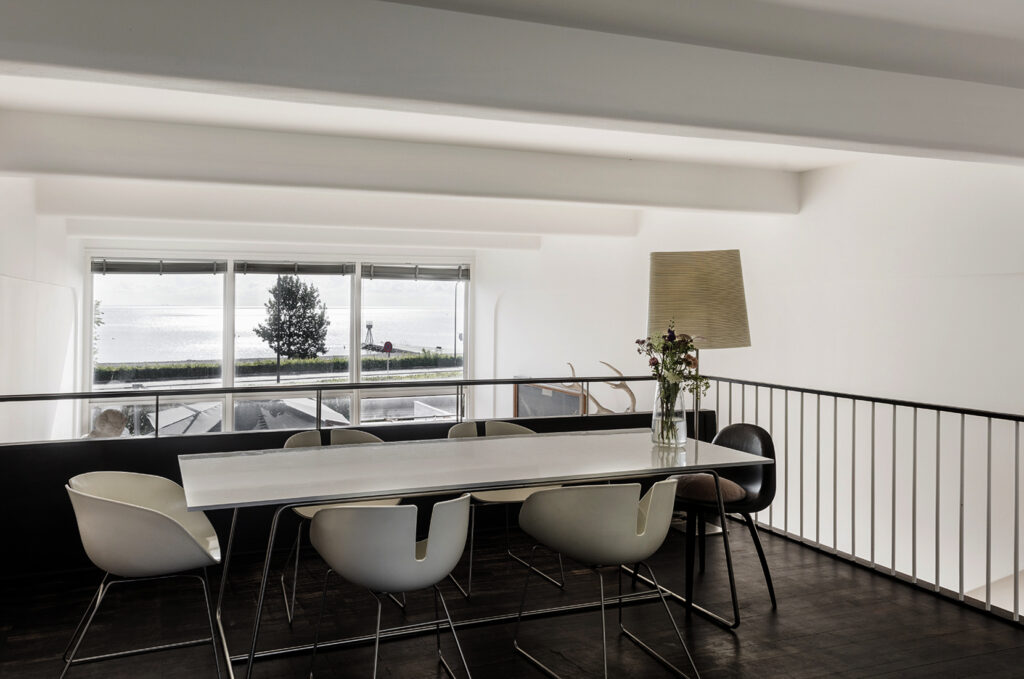 Fra lejlighedens balkon i 1. sals højde kan man faktisk se Arne Jacobsens kendte livreddertårn på Bellevue strand. Det synes jeg er lidt vildt… Man kan selvfølgelig også 'bare' nøjes med at beundre det bløde lys/skygge spil på loftet.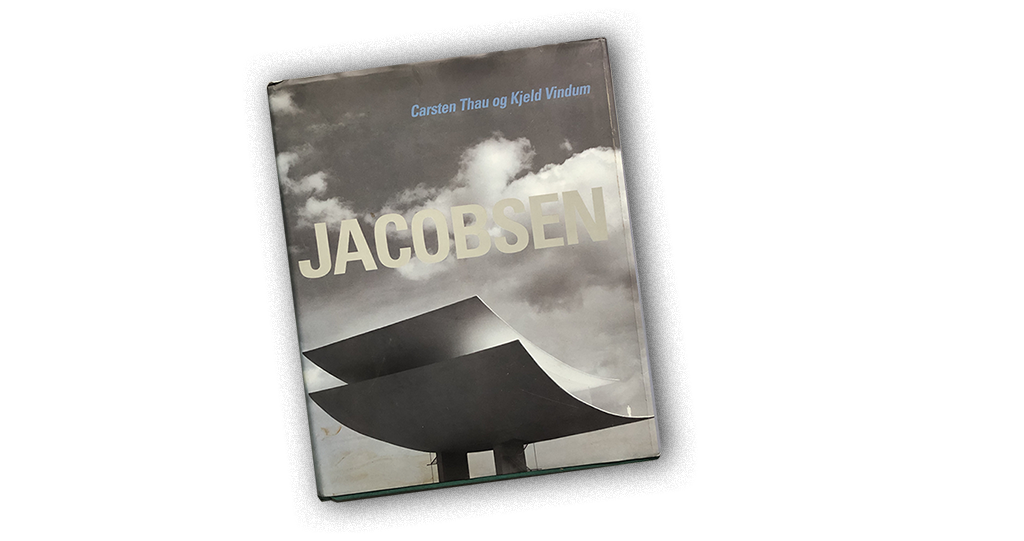 Planskitse af lejlighedens to etager på i alt 174m2.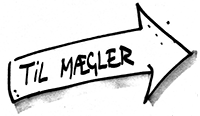 Alle foto i indlægget er fra ovennævnte mægler, og taget af fotograf Lars Gundersen, hvis andet ikke er anført.
Se lejlighedens placering på Google Maps: