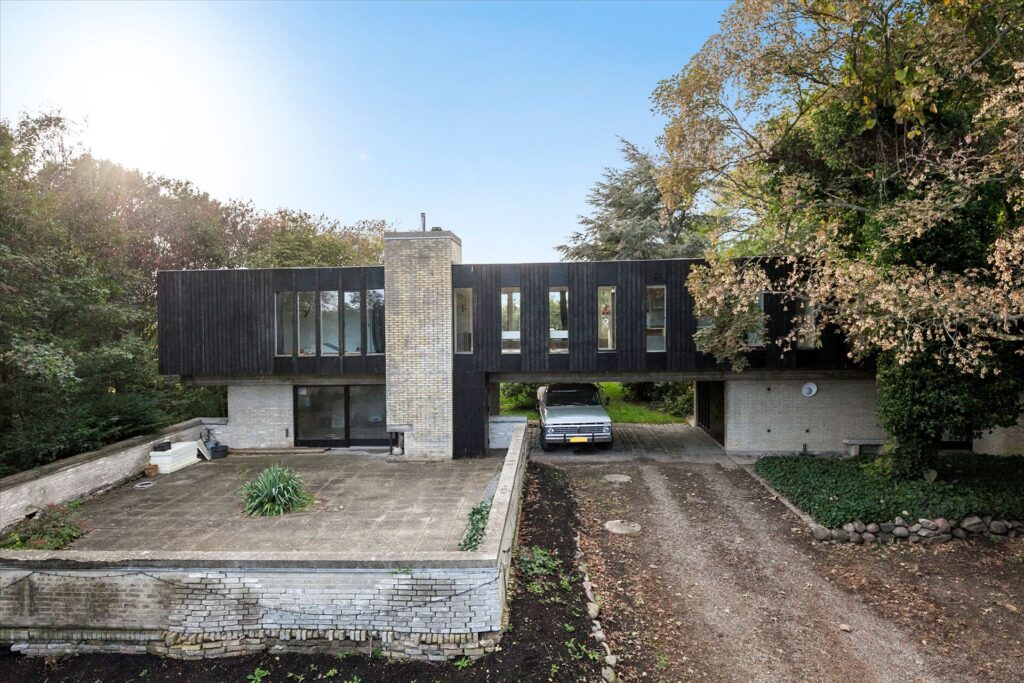 MODERNISMENS ARKITEKTUR VAR PRÆGET AF ØNSKET OM AT VISE MENNESKETS TEKNOLOGISKE BEHERSKELSE AF NATURENS KRÆFTER. TYNGDEKRAFTEN SKULLE IKKE LÆNGERE TVINGE MENNESKET MOD JORDEN MEN OVERVINDES MED FLYVEMASKINER OG HØJDESTRÆBENDE KONSTRUKTIONER.
Dette arkitekttegnet hus i Skælskør fra 1965 er til trods for den lidt ramponerede stand et rigtig flot eksempel på, hvordan den moderne arkitektur løftede sig fra jorden – bogstavelig talt. Huset består meget enkelt af en let kasse, der ligger af på to sokler. Kassen spænder dermed som en bjælke fra sokkel til sokkel. Man kan ane de to gennemgående betonbjælker i underkanten af den sorte trækasse på fotoet.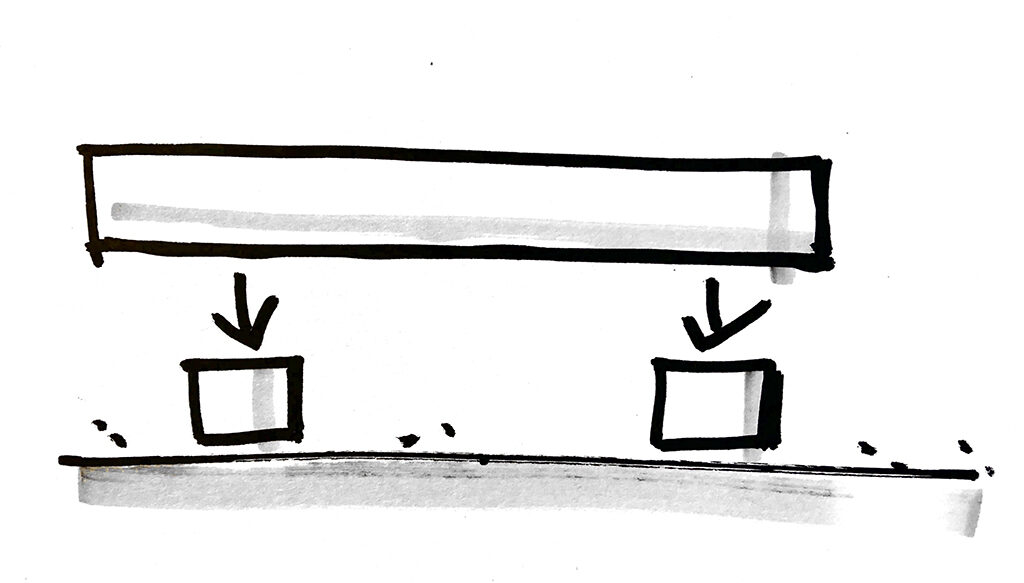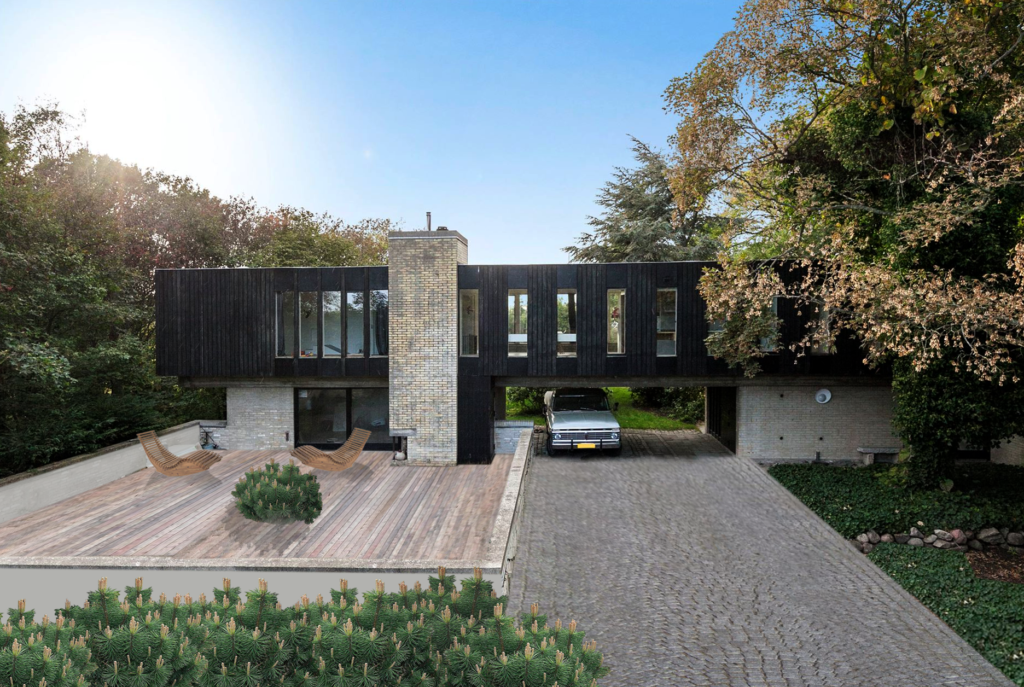 Inden man nu afskriver huset pga. af dets aldring, synes jeg lige, man skal se huset med en mindre Photoshop makeover, som det hedder fra reality-tv verdenen. Arkitekturen fejler bestemt ikke noget, og selv om huset altså er fra 1965, giver det stadigvæk arkitektonisk baghjul til meget nybyggeri…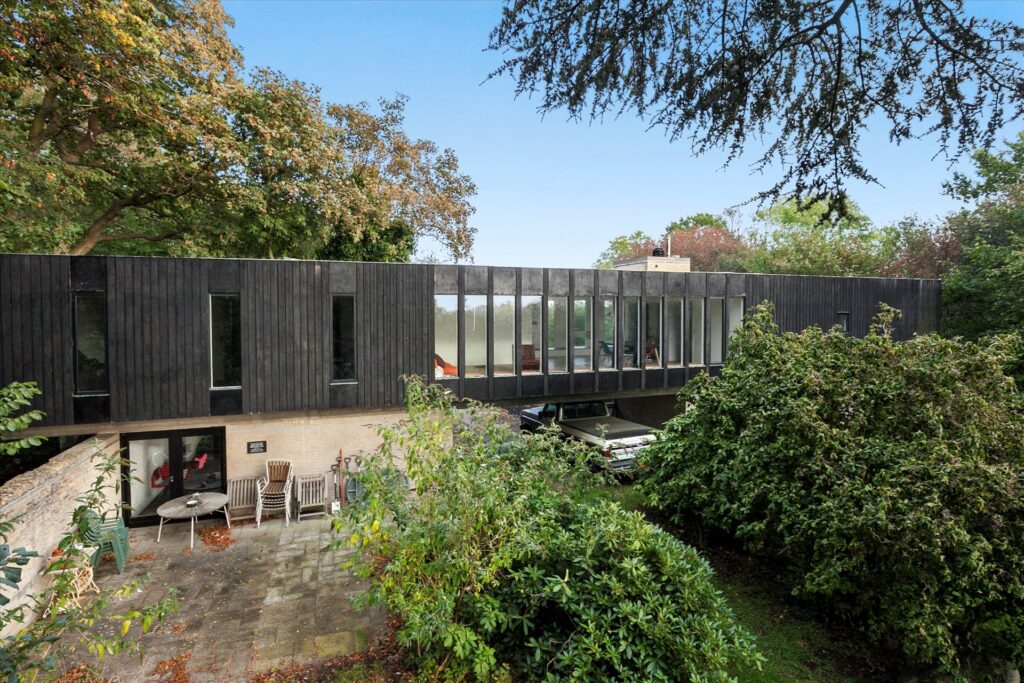 Det er den sorte bjælke-kasse, man ser som et vandret bånd. Den tunge teglstens- og betonsokkel er sjovt nok lys, men kontrasten mellem de to fremhæver bjælkens horisontalitet. Den opvoksede haves grønne vildskab spiller fantastisk godt sammen med husets stringente form. Husets sejler næsten i det grønne….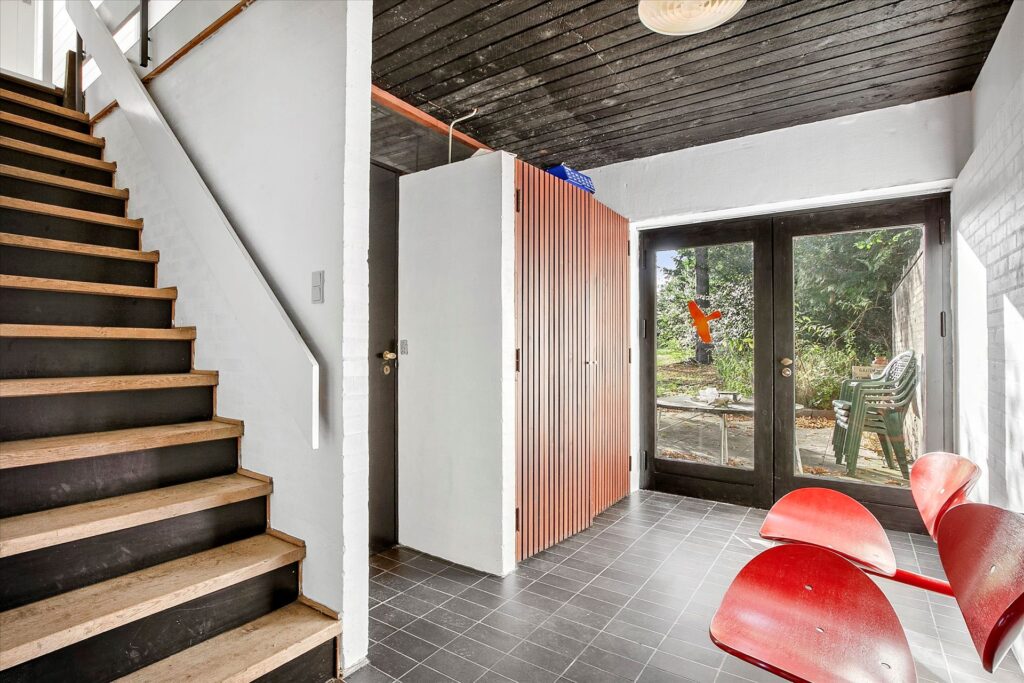 Men man kommer altså ikke uden om at skulle arbejde lidt for sagen. Jeg synes dog, at der i huset stadig er en eksisterende arkitektonisk linje, som man kan arbejde ud fra. Jeg har bl.a. set en del Friis & Moltke villaer, der er så ombyggede, at den arkitektoniske integritet og historie er gået tabt. Det er den ikke her. Husets koncept er også så klart, at der er noget at arbejde ud fra.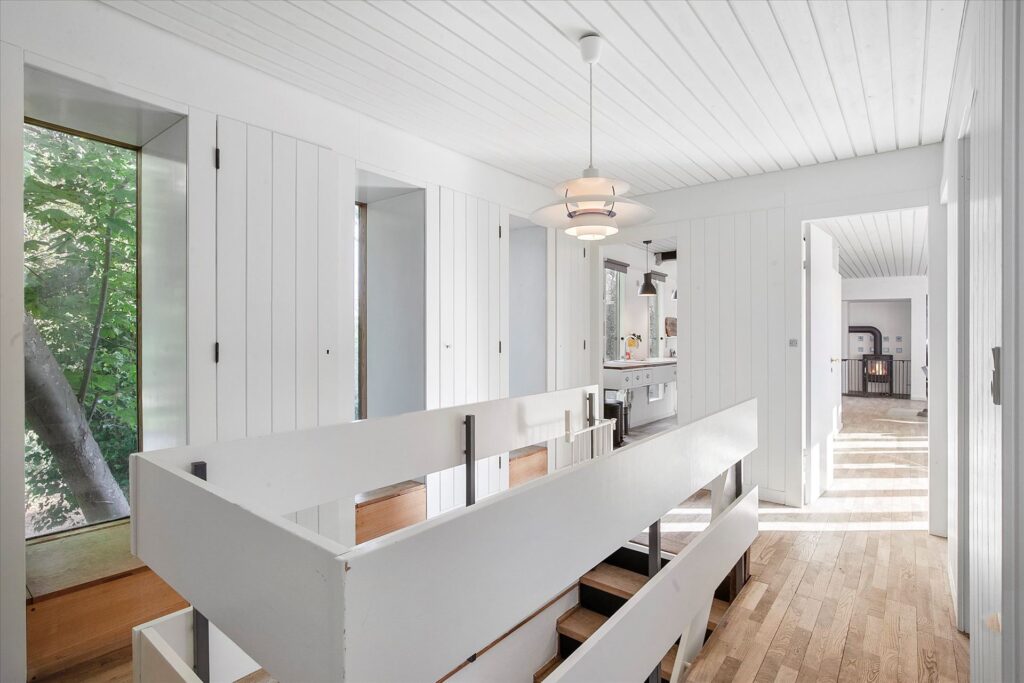 Jeg er ret vild med dette rum. De dybe vinduesnicher med plads til skabene mellem fungerer godt. Og så er trappegelænder og -rækværk tidstypisk overdimensioneret. Fedt.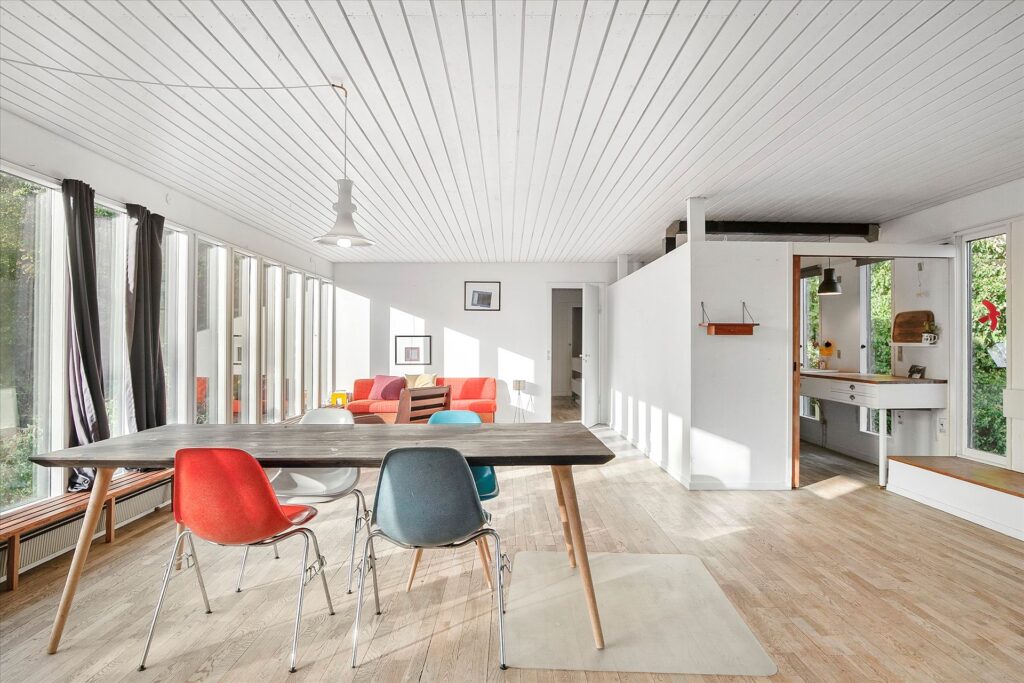 Som altid i modernistiske huse er rummene lyse og forsynet med rigelige mængder vinduer. Men jeg undrer mig måske lidt over det delvist aflukkede køkken. Måske man kunne fjerne væggen og lave det som vist nedenfor.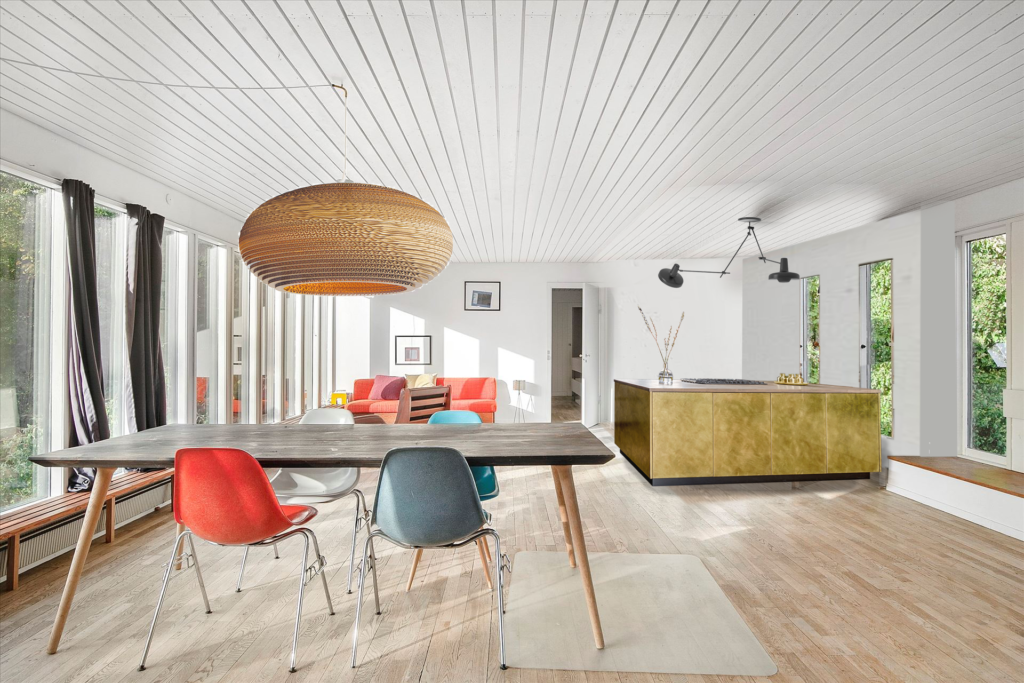 Huset har virkelig potentiale efter min mening. Men det er essentielt, at man holder sig til det klare arkitektoniske koncept: Bjælken.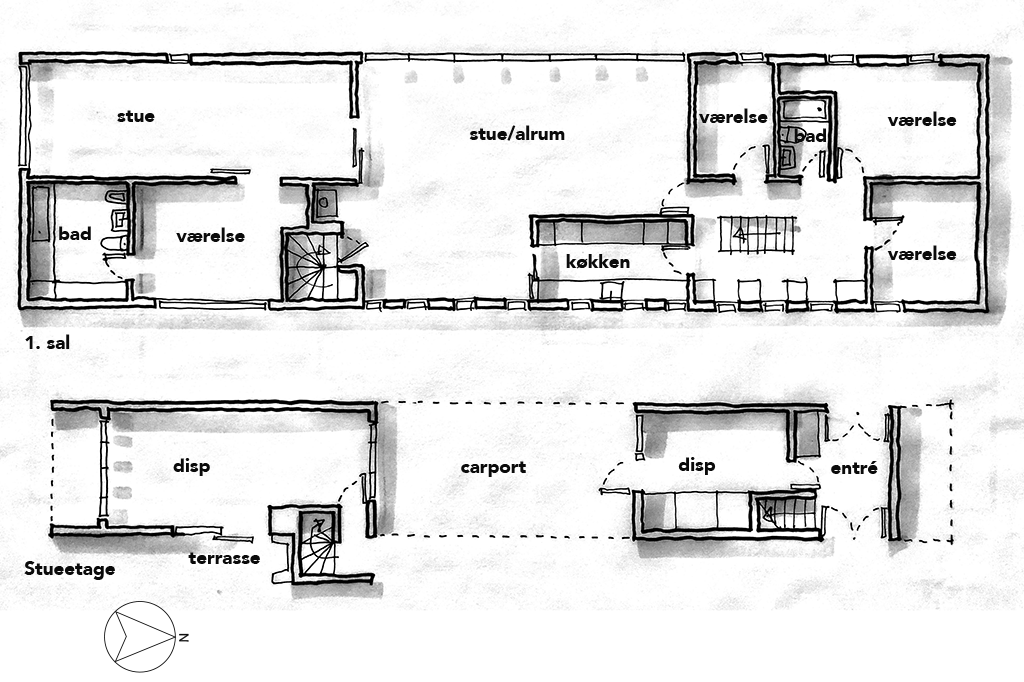 Planskitse af husets 223m2. Huset ligger i øvrigt på en 2.429m2 stor grund. Huset er orienteret nord/syd i længderetningen, så morgen- og eftermiddagssolen falder ind på husets lange facader.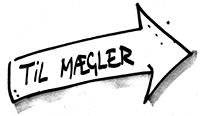 Alle foto i indlægget er fra ovennævnte mægler. Tegninger og Photoshop-bearbejdning er af undertegnede.
Se husets placering på Google Maps: