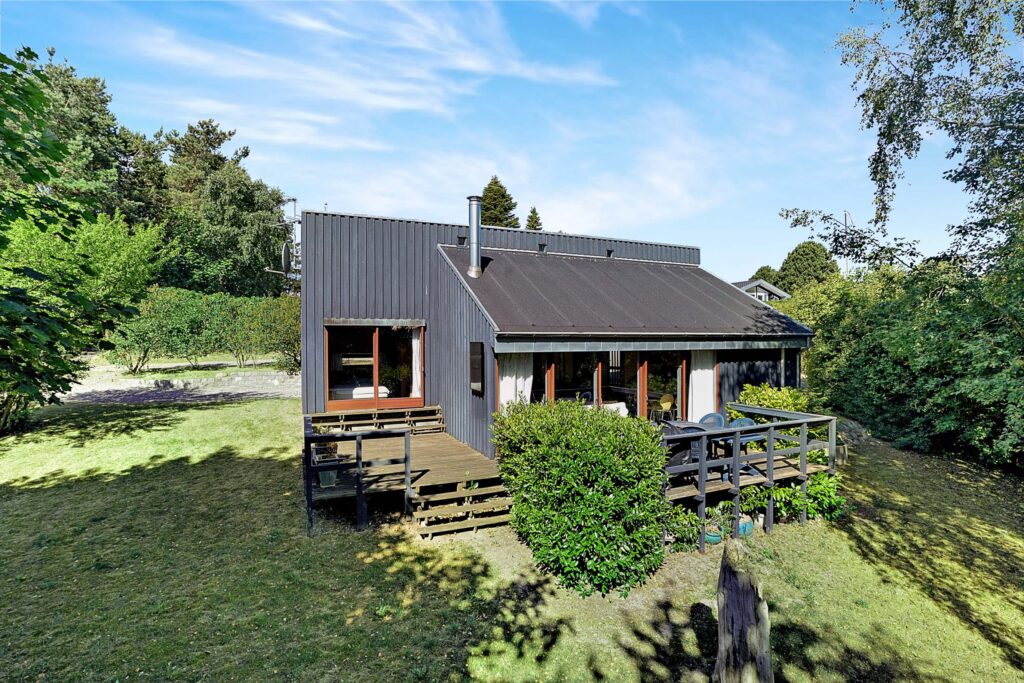 ARKITEKTEN HAR MANGE REDSKABER I VÆRKTØJSKASSEN, NÅR DEN ARKETYPISKE HUSFIGUR SKAL PIMPES….
Dette arkitekttegnet fritidshus i Ebeltoft fra 1977 er jo egentlig et arketypisk længehus, der er skåret igennem på langs, hvorefter den østlige del er forskudt nedad. Husets to dele er ligeledes forskudt for hinanden i længderetningen. Man får med disse 'simple' greb en helt anderledes spændende husoplevelse – synes jeg. Både i huset ydre form, men bestemt også i den indre rumoplevelse. Utroligt hvor meget dynamik disse to redskaber (at skære, at forskyde) kan kreere i et hus.

Forskydningerne er illustreret i ovenstående diagram. :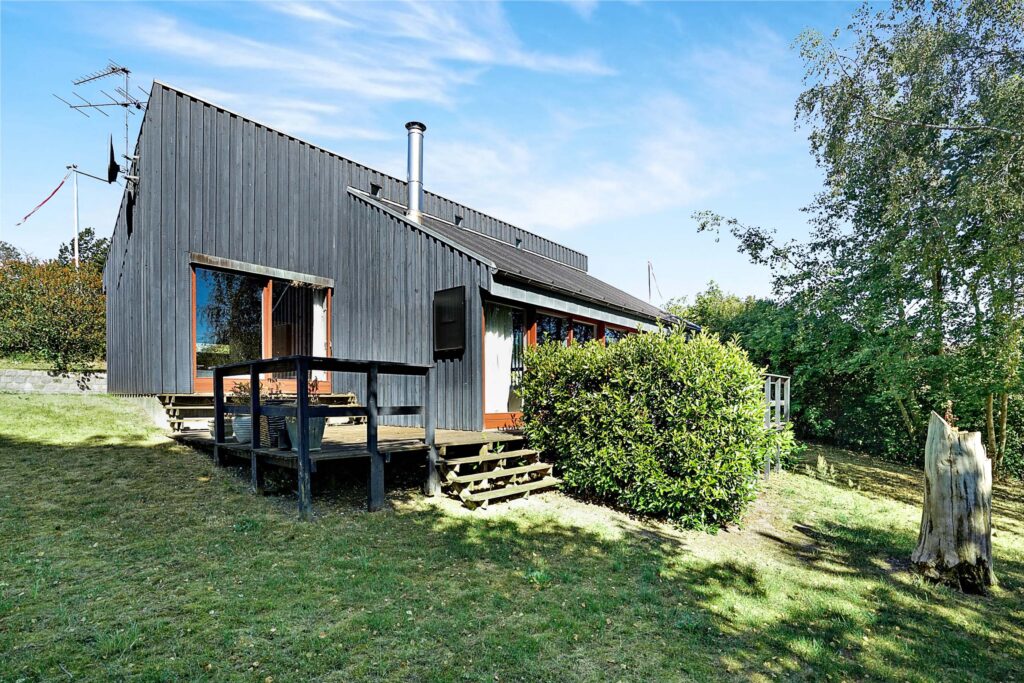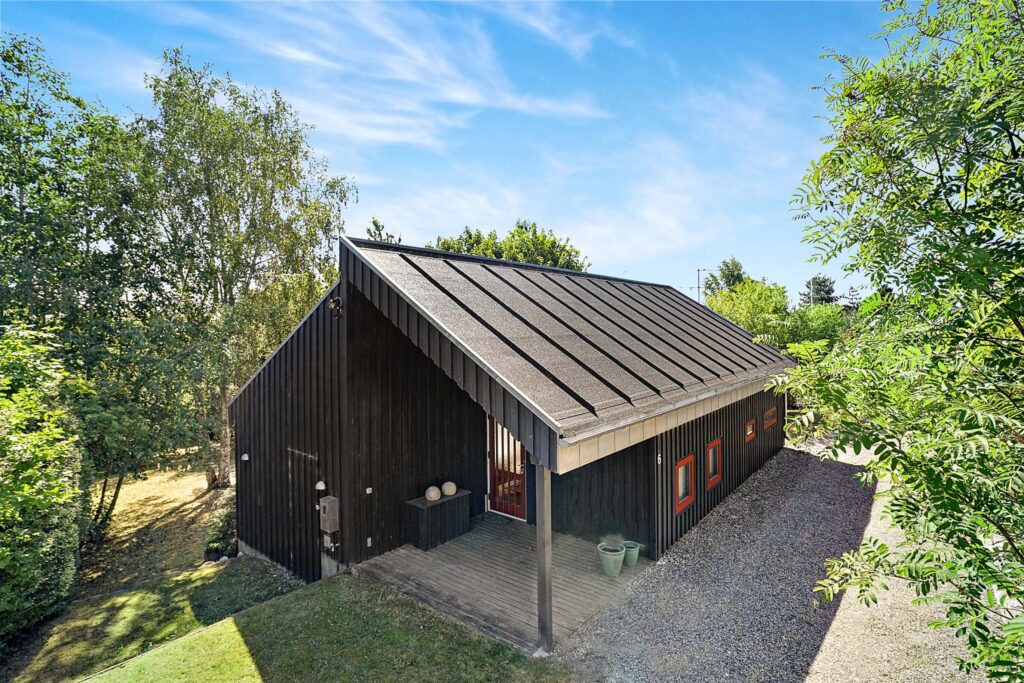 Den lodrette forskydning giver fantastisk god mening, når man ser på, hvordan terrænnet falder. Huset 'glider ned ad' med landskabet og udnytter dette til at skabe en spændende arkitektur. Modsat ser man ofte, at en byggegrund med et levende landskab planeres, så dette kan underordnes husets niveaufrie arkitektur. Det er lidt sørgeligt, synes jeg. Specielt hvis grundens terræn er en del af et karakteristisk landskab – hvilket faktisk er tilfældet her i Ebeltoft.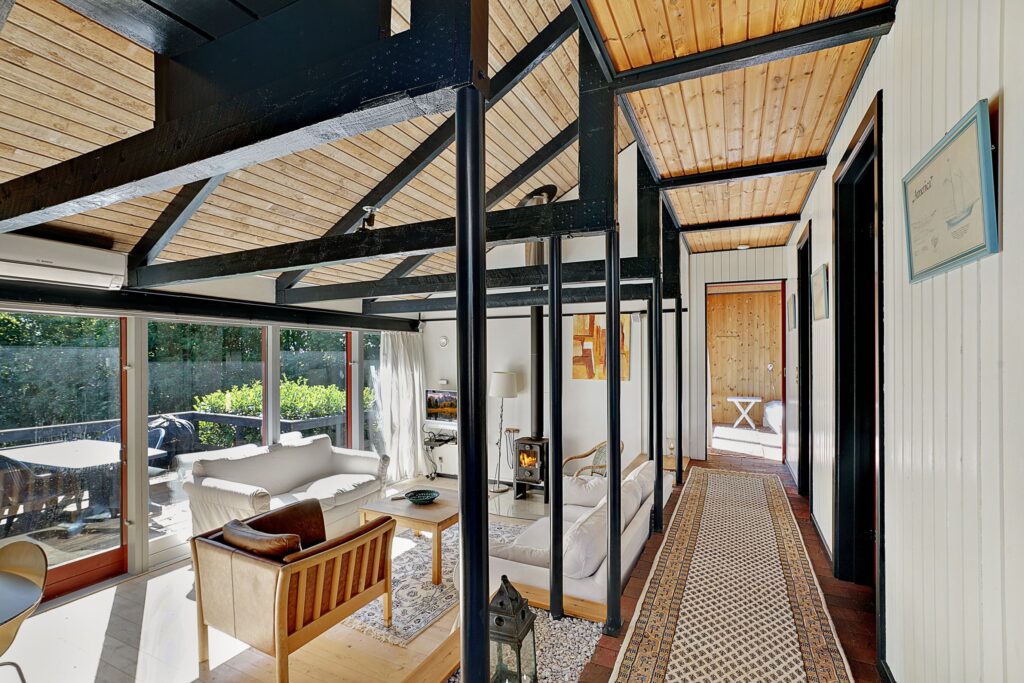 Husets arkitektoniske koncept ses også tydeligt i interiøret. Stue og gang udgør principielt ét rum, men niveauforskydningen og konstruktionen danner alligevel oplevelsen af to adskilte rum i huset: gangen og stuen. Jeg kan jo ikke lade være med at blive begejstret over den måde, hvorpå konstruktionen i huset anvendes arkitektonisk som et grafisk element. De sortmalede stolper og spær skaber et næsten mondriansk 3D univers… 🙂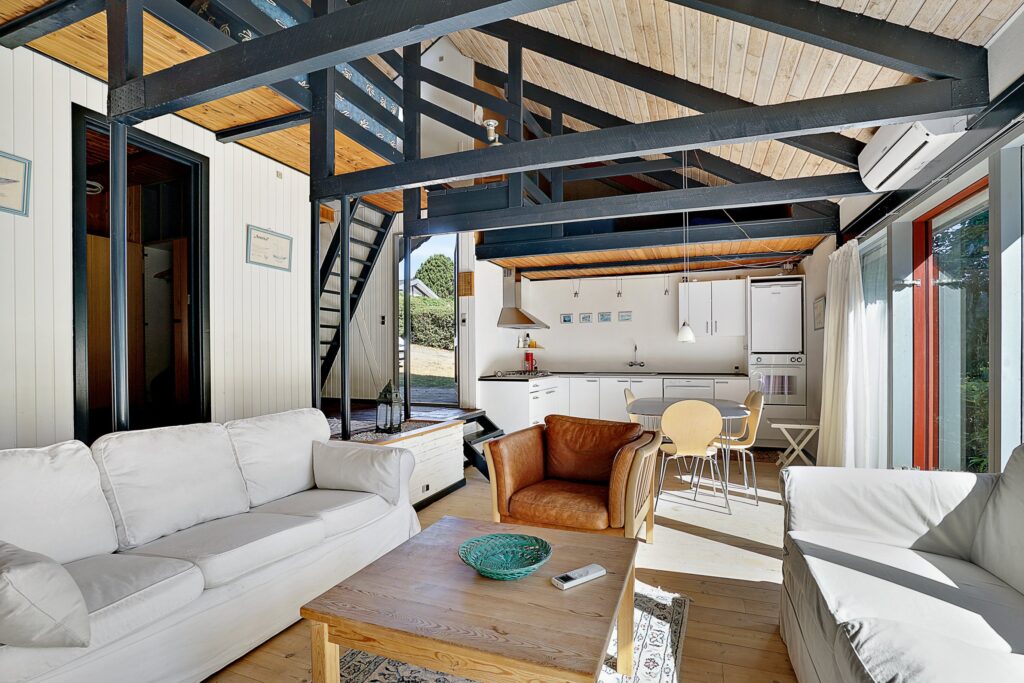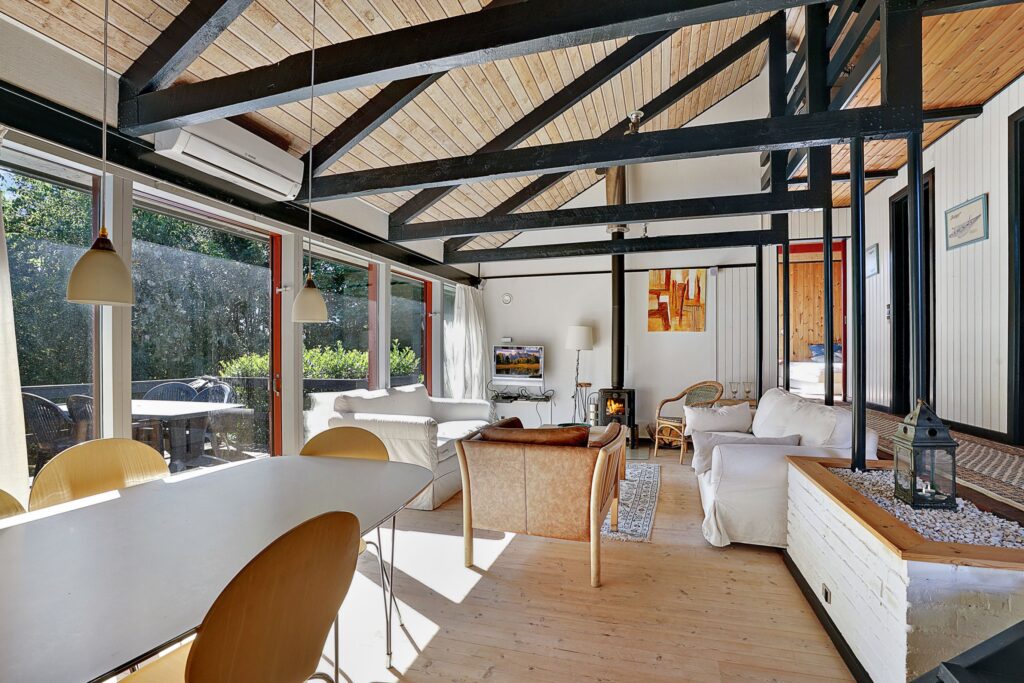 Stuen og køkkenet fylder hele den østvendte, sænkede del af huset. De store vinduespartier med skydedøre til terrassen følger spærrytmen (af konstruktiv nødvendighed) og skaber en rytme i det ellers åbne og højloftede rum. Husets vestvendt del rummer værelser og bad og udgør dermed en mere lukket privat del. Lodretstående brædder udgør den primære vægbeklædning i husets interiør og eksteriør. Det giver en god sommerhusatmosfære. Læs også mit indlæg om Friis & Moltke sommerhuset HER.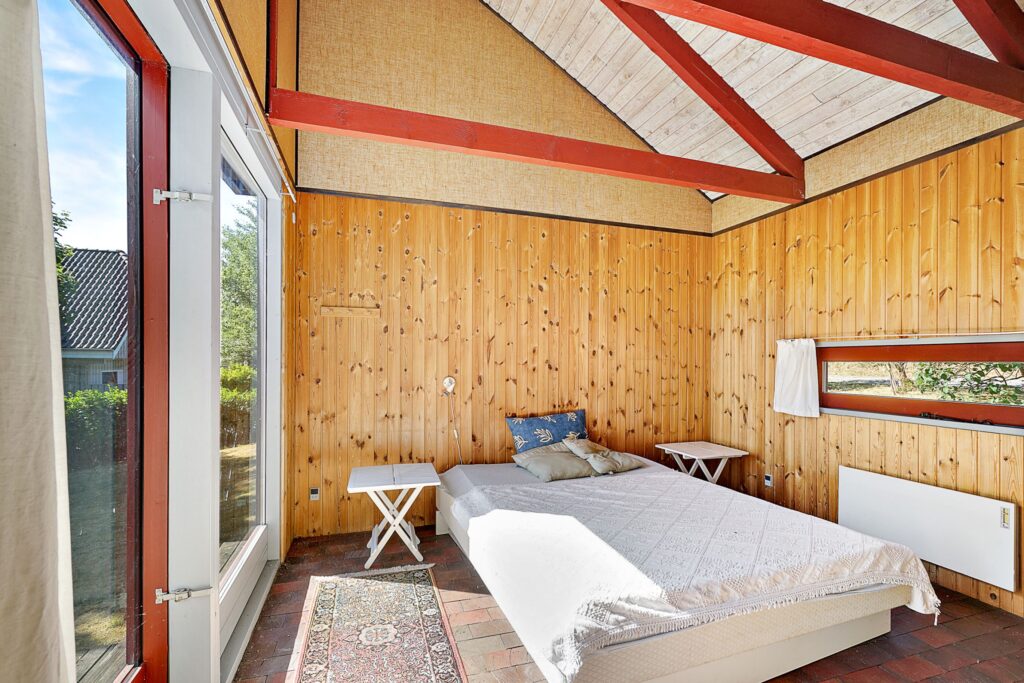 Sjovt at man i værelserne markerer konstruktionen med en varm rød farve og ikke en sort som i den øvrige del af huset. Men stadig en god kombination med træets naturfarver. Og så er der direkte adgang til den østvendte terrasse fra soveværelset – og lukket mod vest og adgangsvejen. Sådan!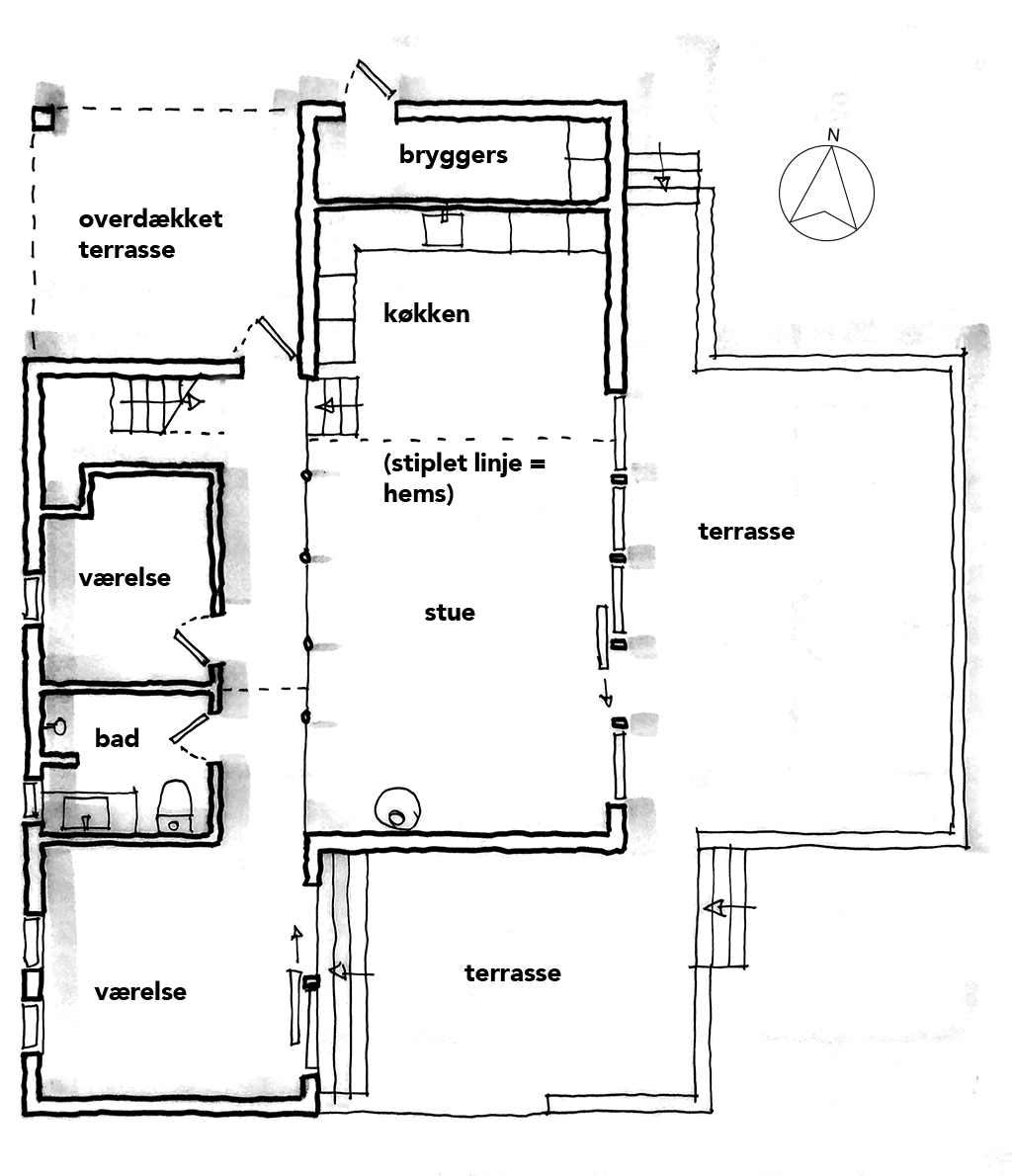 Planskitse over husets 115 veldisponerede kvadratmeter. Det er helt oplagt, at man tegner uderummene med særligt i et sommer- eller fritidshus. Det er jo her, en stor del af livet også skal leves. Faktisk mener jeg også, at det ofte ville give god mening at tegne haverummet med, da det egentlig er lige så vigtig en komponent i denne hustype.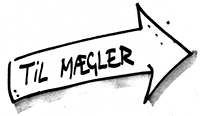 Alle foto i indlægget er fra ovennævnte mægler.
Se husets placering på Google Maps: