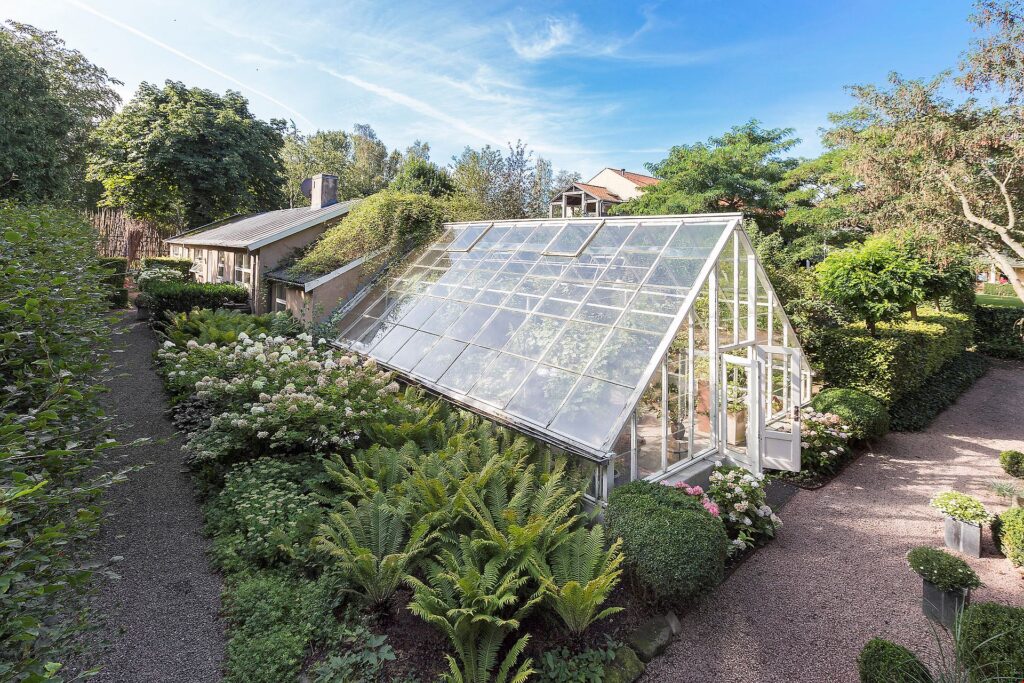 DRIVHUSET FUNGERER I DAG OFTE SOM EN ART FRITLIGGENDE UDESTUE I HAVEN.
Men midt i Hørsholm ligger dette hus, hvor drivhuset er vokset sammen med huset. Huset er oprindeligt fra 1948, men renoveret i 2001. Der er i huset en gennemgribende kærlighed til haven, hvilket afspejles i drivhusets næsten symbiotiske sammenkobling af hus og have.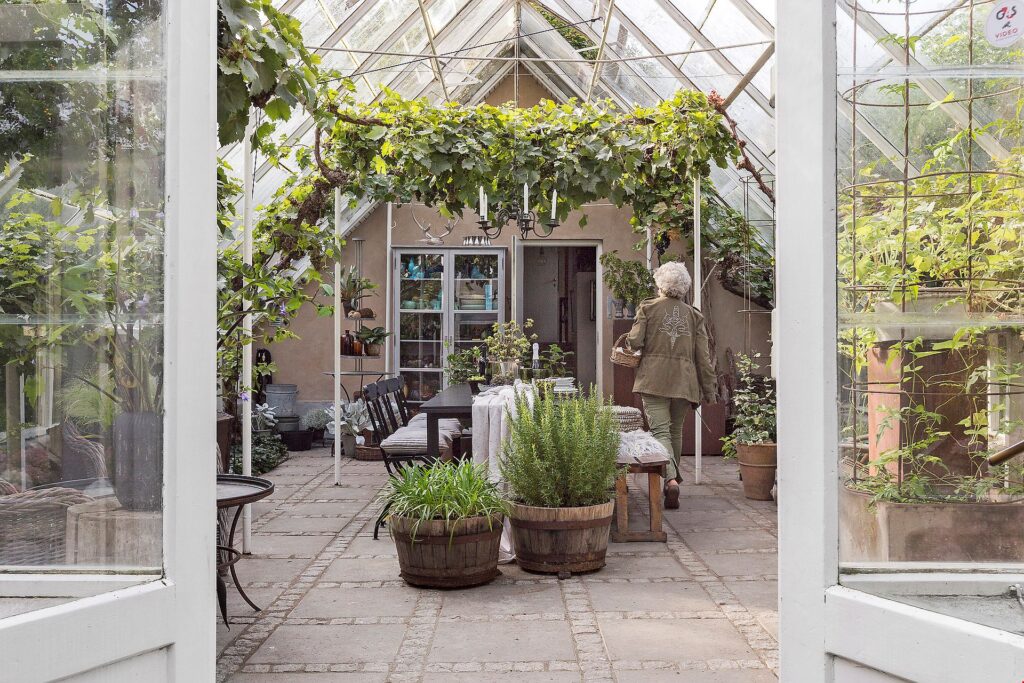 Det undrer mig egentlig, at glastilbygninger som mellem tempererede zoner i vores boliger ikke har større udbredelse. Vi har typisk en meget skarp overgang mellem husets indre og ydre. Der var ansatser til en succes for denne type uisolerede tilbygninger kaldet udestuer i 1980'erne og 90'erne, men den arkitektoniske kvalitet var i de fleste tilfælde forfærdelig. (Læs mit indlæg 'Udestuen').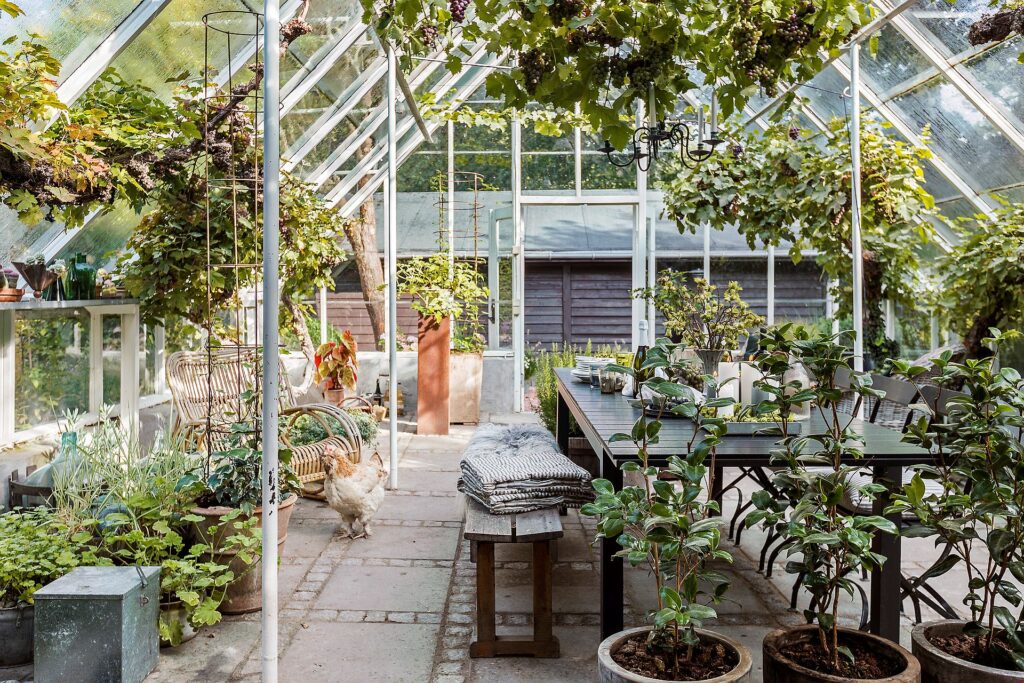 Udover at man kan få nogle relativt billige boligkvadratmeter, er der også den store gevinst i form af sollys, der ofte er en mangelvare i Danmark. Huset i Hørsholm viser på bedste vis, hvad et stort drivhus, glashus eller hvad man nu vil kalde det, kan anvendes til. Det er jo ikke kun til fremavl af tomater og agurker, men også et atmosfærefyldt haverum til hygge og fest.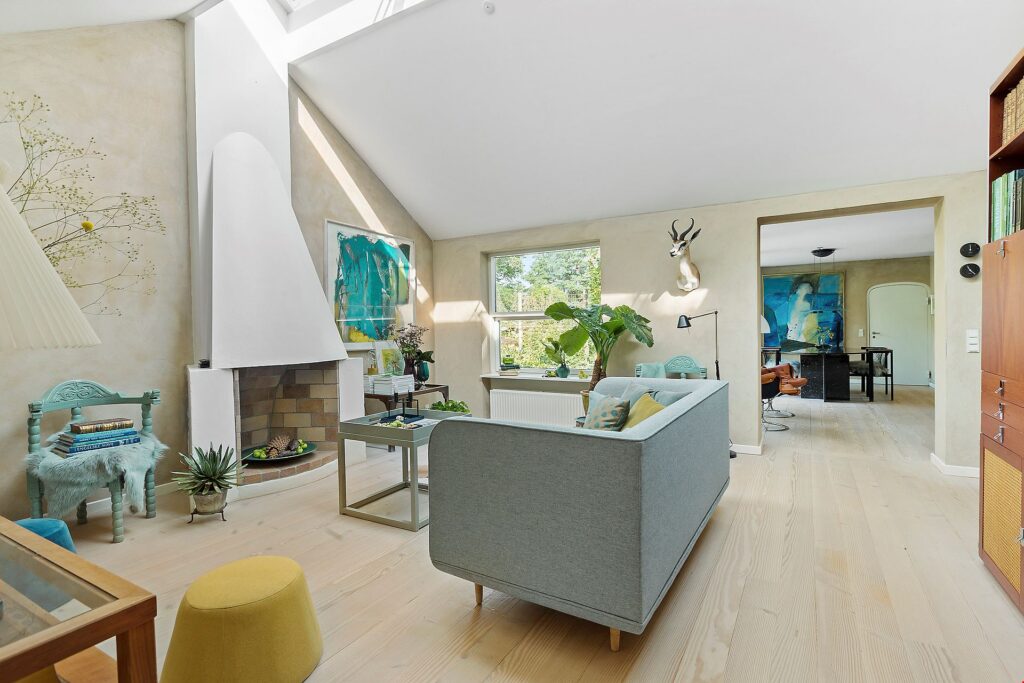 Resten af huset opleves i lyset af drivhuset som en hyggelig hule.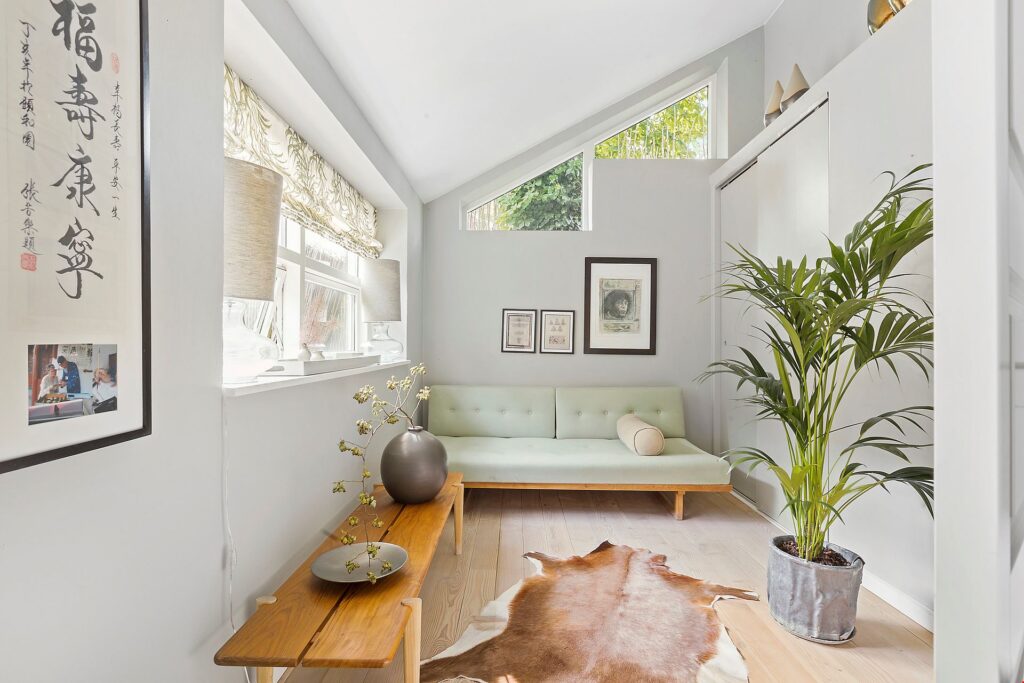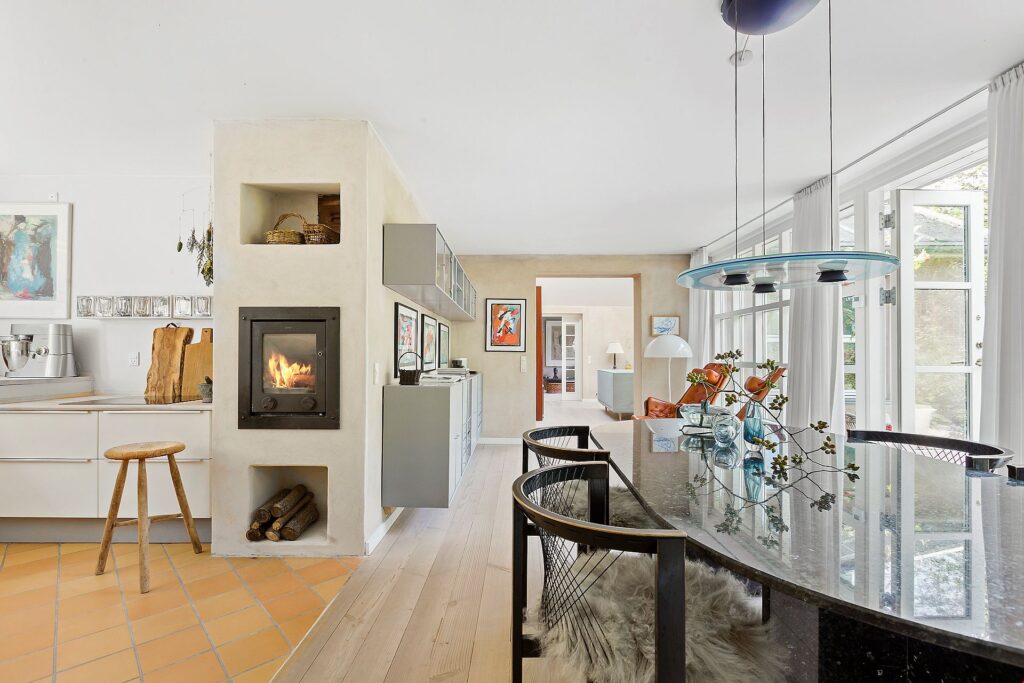 Uanset de smukke rum i huset er det haven og drivhuset, der sætter karakteren for dette hjem. Og det, synes jeg faktisk, er tankevækkende, når tendensen i meget nybyggeri i dag er modsat. Haven reduceres nærmest til et overskudsareal, der skal skabe afstand til naboen. Eneste grønne elementer er græsplænen og bøgehækken. Vi har ikke tid til at holde have er forklaringen…..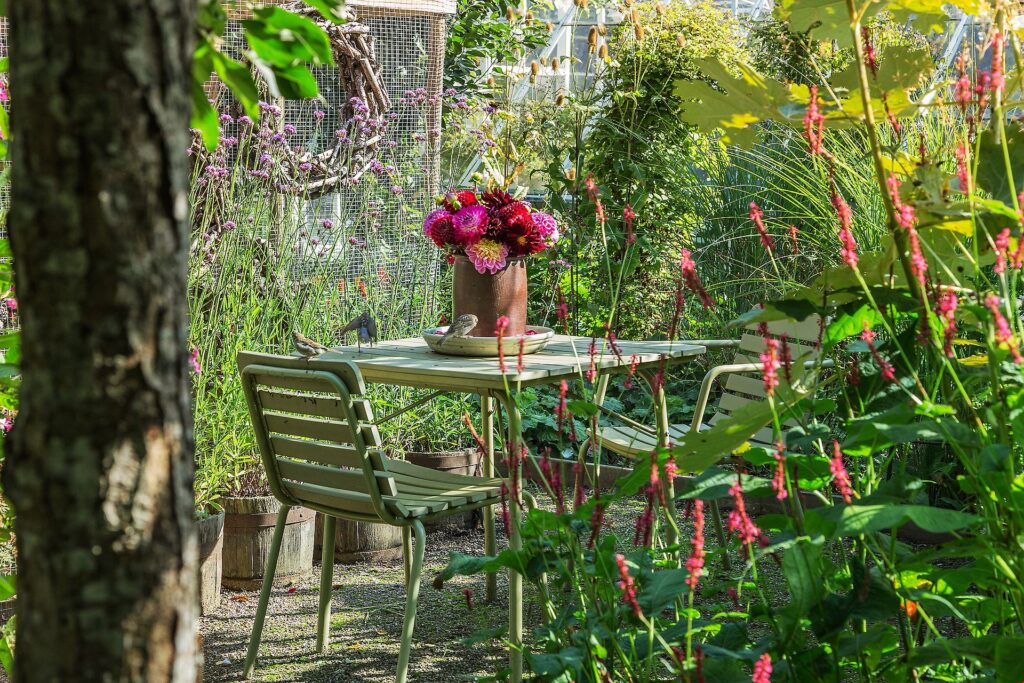 Men vi drømmer alle om at hygge os i sådan en have som her – eller hvad?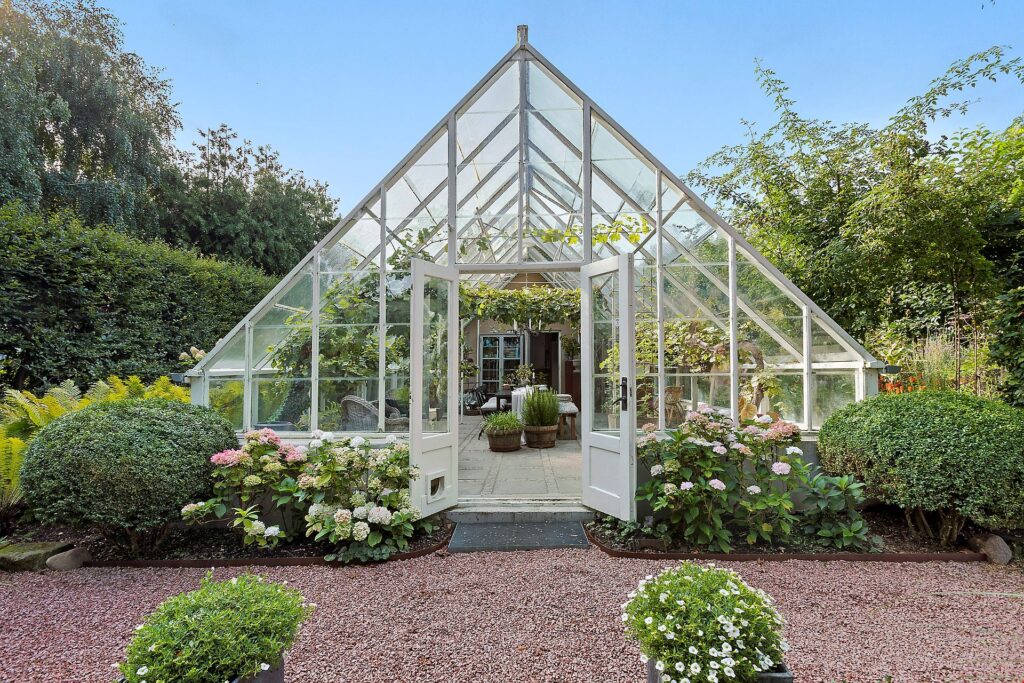 Ja, det koster helt sikkert en kæmpe passion og arbejdsindsats at nå hertil, men mindre kan også gøre det 🙂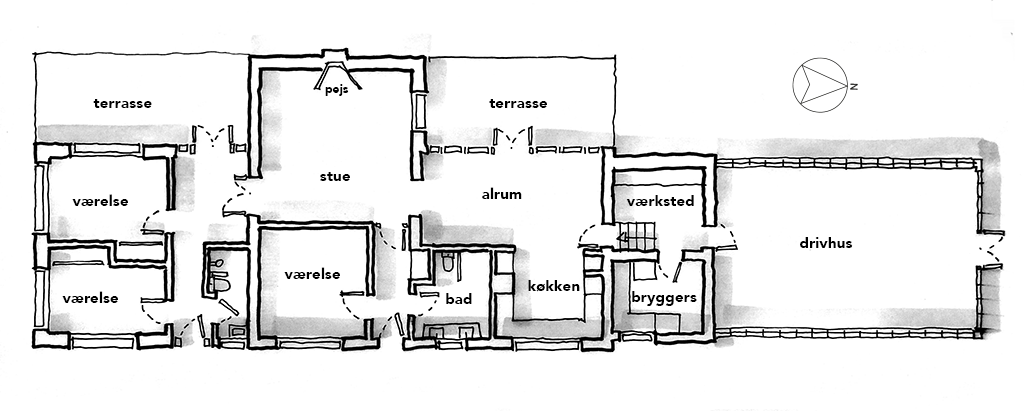 Plantegning over huset på 154m2. Drivhuset ligger herudover med en størrelse på ca. 45m2. Drivhuset ligger på nordsiden af huset, men da hele bygningskroppen ligger nord/syd vendt i længderetningen, betyder det, at drivhuset får både øst (morgenlys) og vest (eftermiddagslys).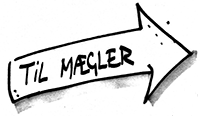 Alle foto i indlægget er fra ovennævnte mægler.
Stylist på huset: Maibritt Blossfeld. Se mere HER
Se husets placering på Google Maps: