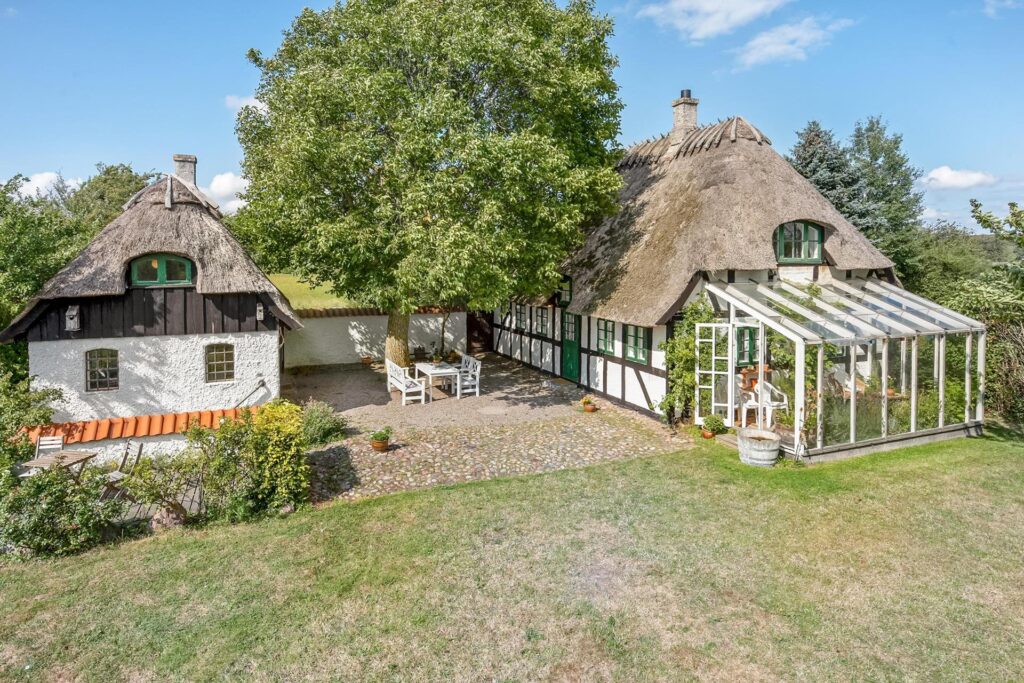 VI VIL GERNE HAVE ET HUS MED SJÆL – HØRER JEG OFTE I ET AF DE MANGE TV PROGRAMMER OM BOLIGSØGENDES JAGT PÅ DERES DRØMMEHUS.
Og sjovt nok synes alle i tavshed enige, om hvad det er…. Huset beskrives som en person, et menneske med en historie og unikke fysiske finurligheder, der gør det særligt og giver det sjæl. Den amerikanske filosof Richard Rorty siger det måske meget præcist, når han siger at: Hvis kroppen havde været lettere at forstå, ville ingen have troet, at vi havde en sjæl. Med andre ord: Hvis vi som rationelle væsener let kunne forstå vores bygninger (krop), ville vi ikke have behov for at tildele dem en sjæl, der kunne rumme det uforklarlige. Det er nok en af årsagerne til, at vi ofte ikke finder funktionalistiske og modernistiske bygninger særligt sjælefulde. Deres arkitektur afspejler jo en opfattelse af mennesket som reduceret til en biologisk funktionel krop.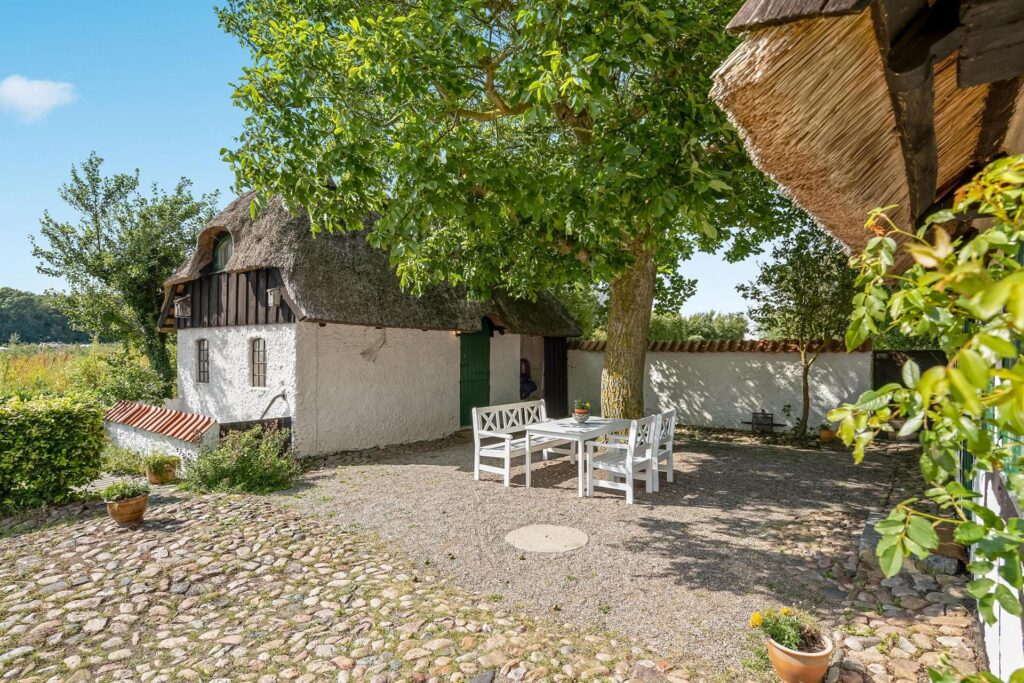 Huset her er en velfungerende krop – men bestemt også så meget mere, der ikke umiddelbart lader sig forstå. Så jeg synes bestemt, at dette hus har en sjæl…. og den kan dateres tilbage til 1842. Huset er dog renoveret og arkitektonisk genbesjælet i 1970 af arkitekt Steen Skovmand. Huset ligger i Vester Skerninge tæt på Svendborg og vandet – og stemningen er fantastisk….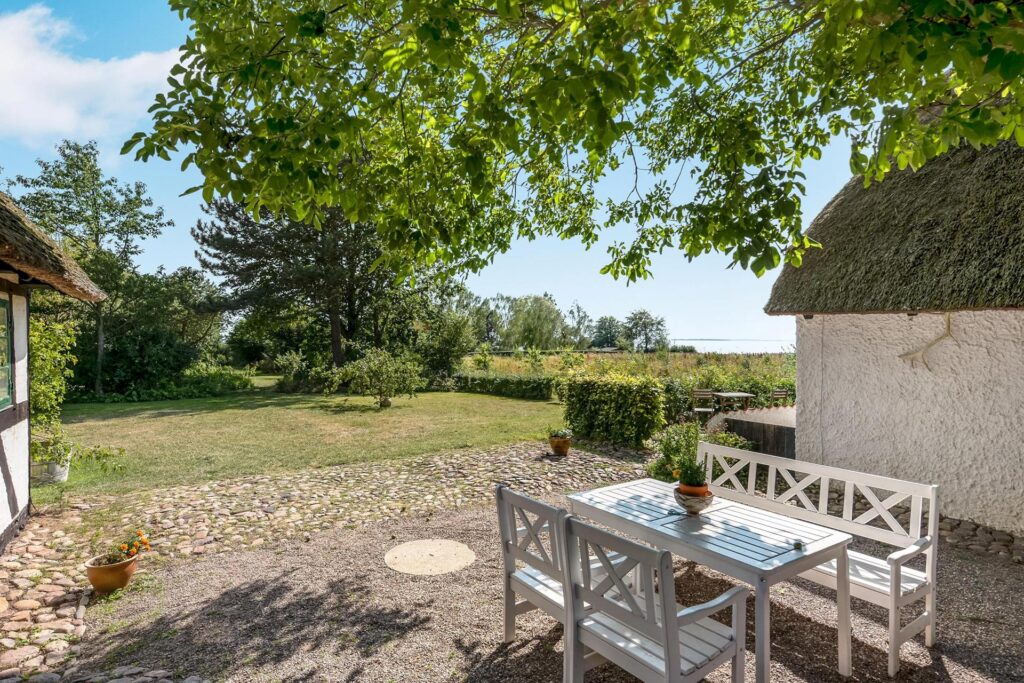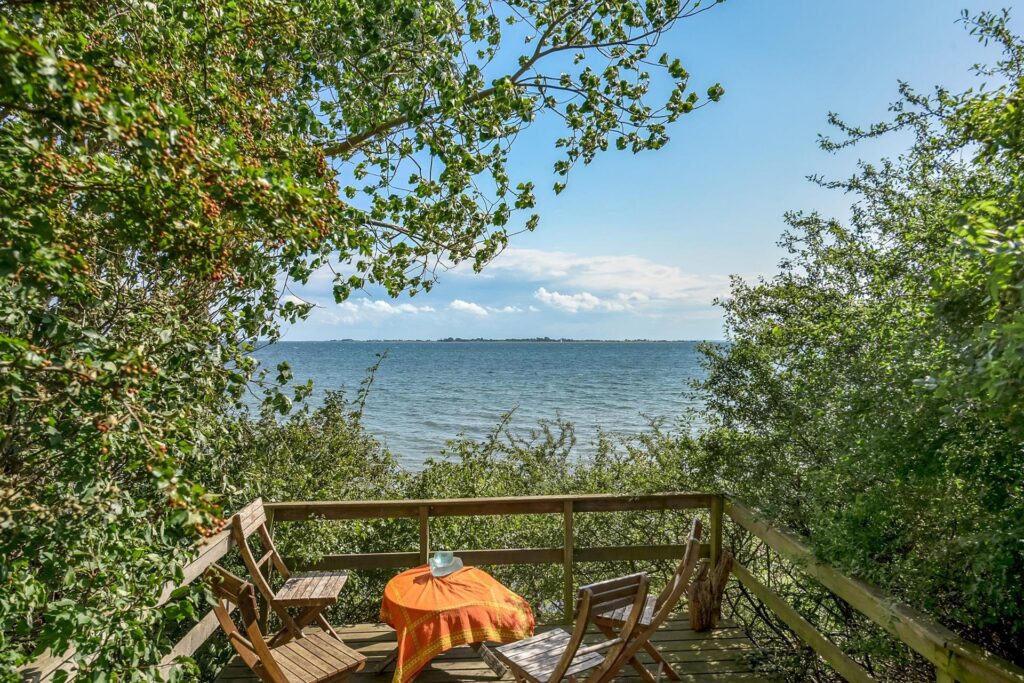 Husets særlige karakter eller sjæl lader sig jo sådan set ikke rigtig beskrive objektivt. Det er en privat sag, der handler om en totaloplevelse, hvor stedet, haven, huset, himlen, duften, varmen, kulden osv. spiller sammen i én stor sanseoplevelse, der møder lige præcis din sjæl. Om det går godt ved jeg ikke…. men billederne indikerer efter min mening en kommende kærlighedsaffære… 🙂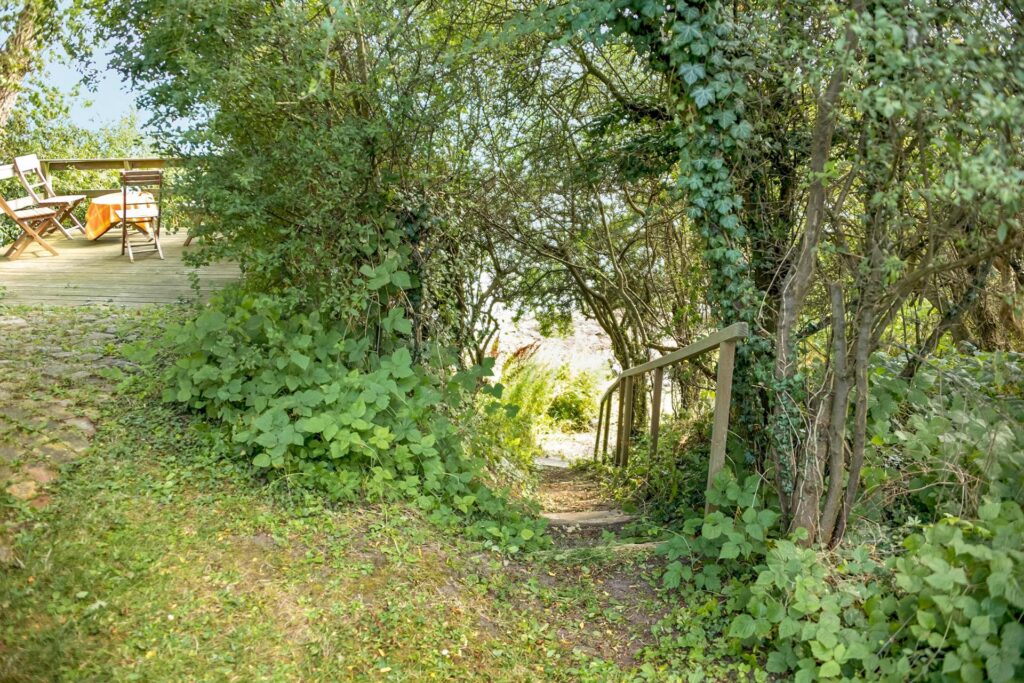 Her er der i hvert fald en grøn sjæl, der er på vild flugt ud af sin rationelle ramme… Herligt.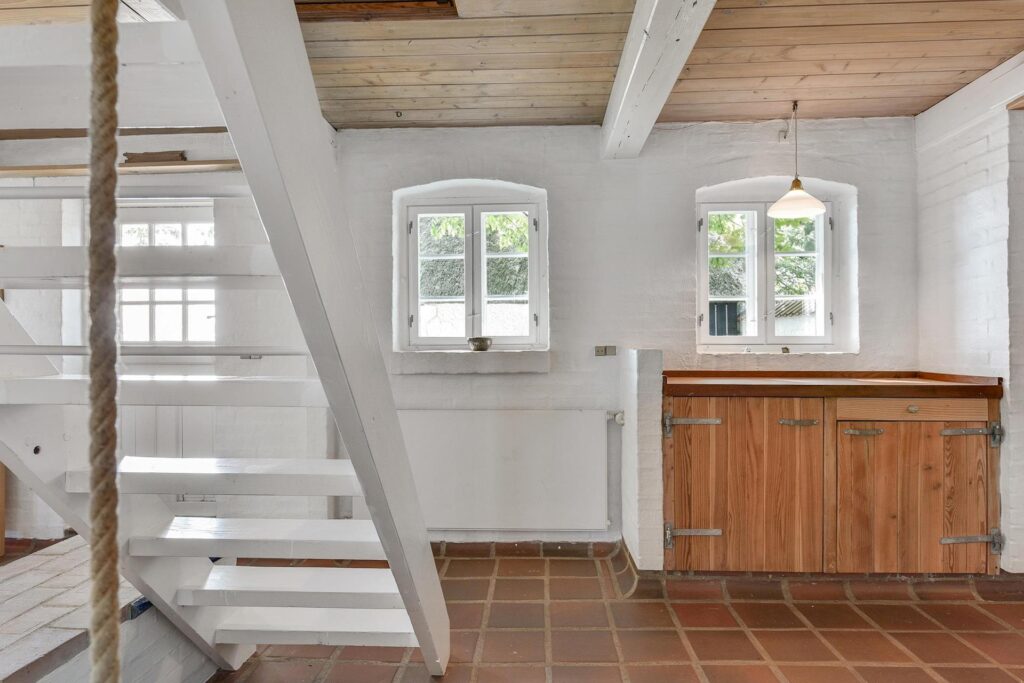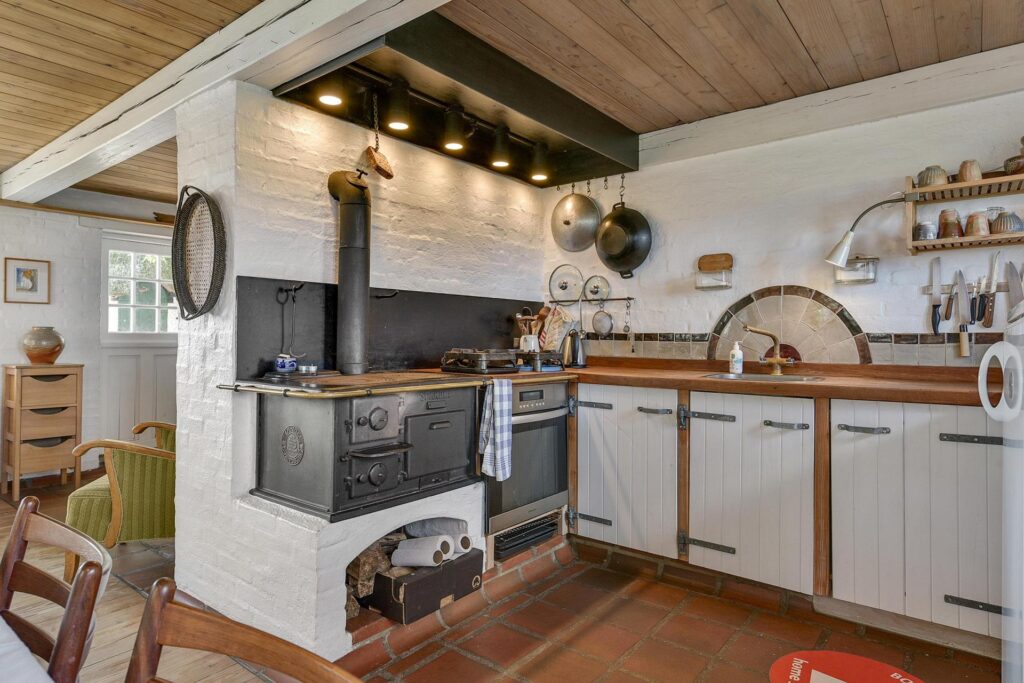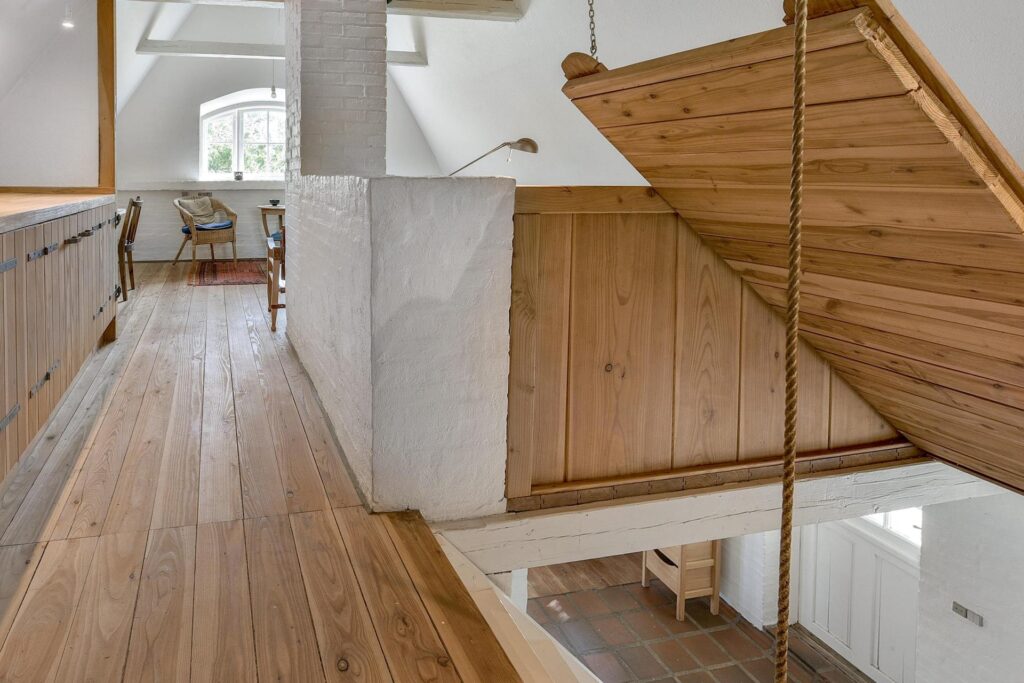 Husets indre afspejler for mig en rolig autentisk sjæl. Det er den karakteristiske enkelhed af hvide vandskurede vægge og tegl eller trægulve. Alt i varme naturmaterialer. Køkkenet er primitivt, men har sjæl… 🙂 Hvorfor ellers beholde det gamle brændefyrede komfur ved siden af et nyt…?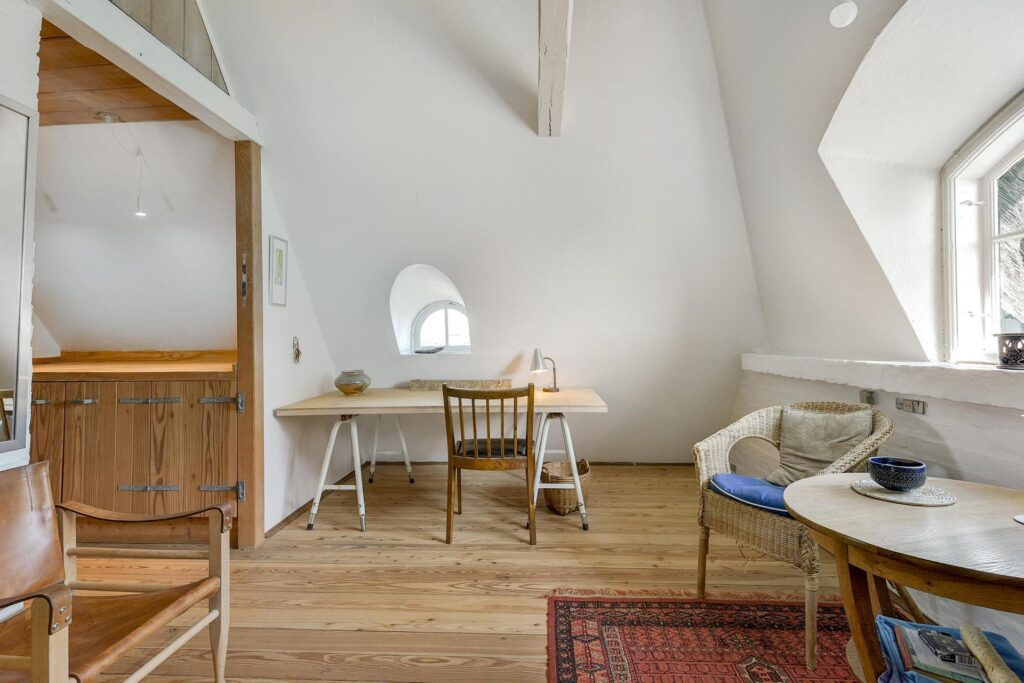 OBS: Hvis man synes, at ideen om at huse har sjæl, atmosfære eller stemning, kan jeg anbefale, at man kigger lidt på den finske arkitekt Juhani Pallasmaa, der har skrevet flere bøger og artikler om emnet. Det er mere specifikt, det man kalder en fænomenologisk tilgang til arkitekturen, der udforskes hos ham. Den danske arkitekt Steen Eiler Rasmussens bog Om at opleve arkitektur er bestemt også en læsning værd i denne sammenhæng.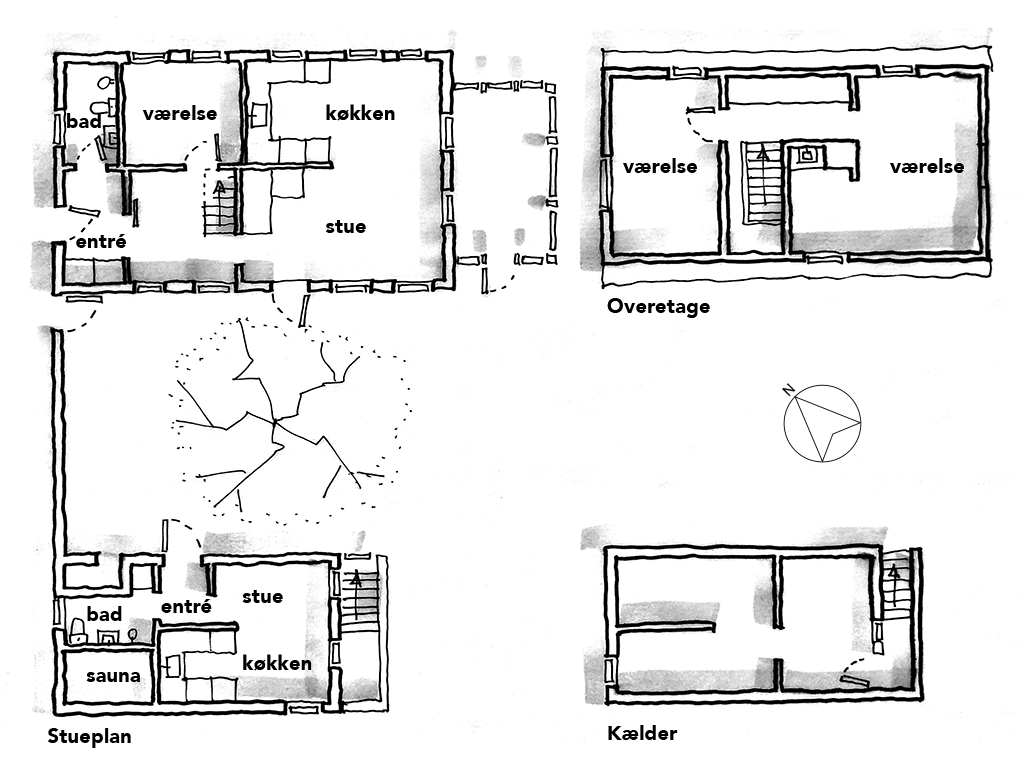 Planskitse af hus og anneks (Hovedhuset med overetage er øverst i planen og anneks med kælder nederst). Hovedhuset er på 104m2, mens annekset er på 40m2. Og så skal man jo lige huske det fine gårdrum mellem de to huse….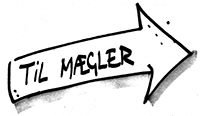 Alle foto i indlægget er fra ovennævnte mægler
Se husets placering på Google Maps: