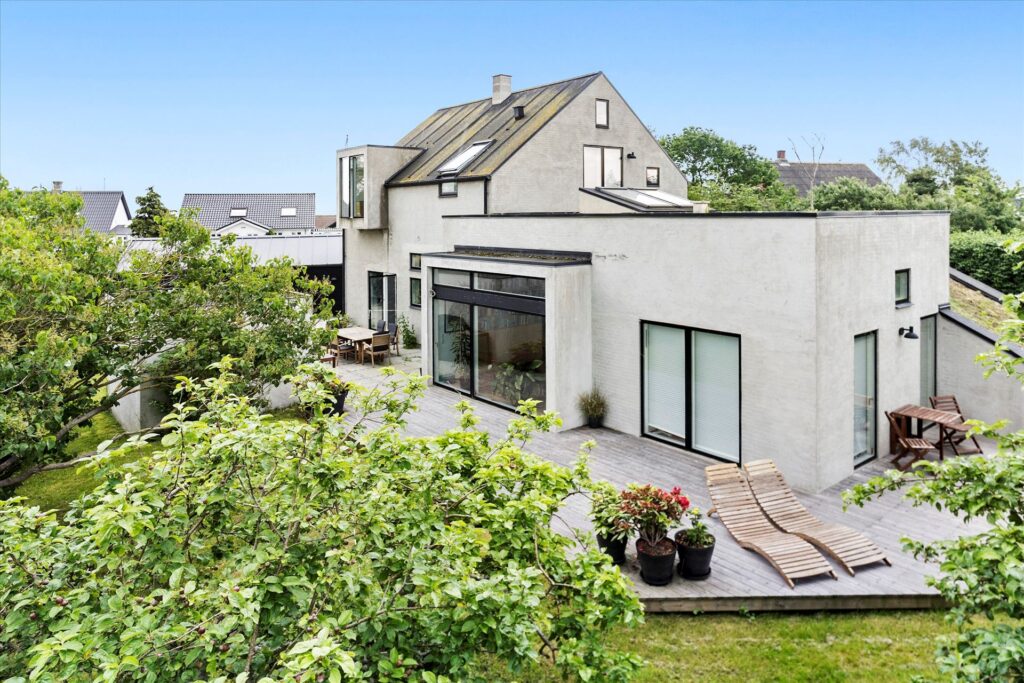 FEM EJENDOMME BLEV I 2016 PRÆMIERET AF AARHUS KOMMUNE FOR DERES SÆRLIGE BIDRAG TIL BYFORNYELSEN I KOMMUNEN. HUSET HER PÅ NORSMINDEVEJ 200 I NORSMINDE VAR DEN ENE.
Og det kan jeg godt forstå! Jeg er vild med husets stramme næsten Lego-agtige arkitektur. Her er sat klods på klods og så en ekstra 4'er uden på taget, så huset bliver en næsten skulpturel oplevelse….. En blanding af nyt og gammelt samlet i én stram komposition. Og det fortsætter indenfor.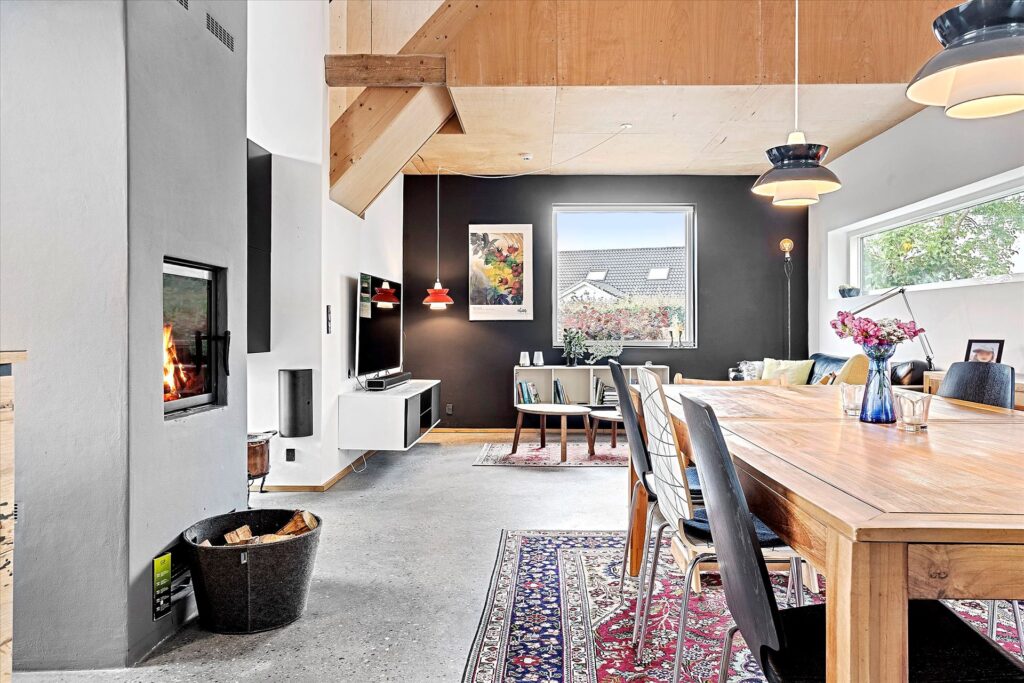 Lige så 'klodset' (positivt ment 🙂 ) skulpturel husets eksteriør er, lige så levende, varmt skulpturelt er interiøret. Det slebne betongulv med synligt aggregat og det træpladebeklædte loft, hvor trappen skærer sig ind er begge elementer, der i al deres enkelhed tilfører huset en særlig karakter og atmosfære. Det er råt og lækkert. Man får, hvad man ser – og mærker. Ikke noget med at gemme alt væk bag gips og spartel.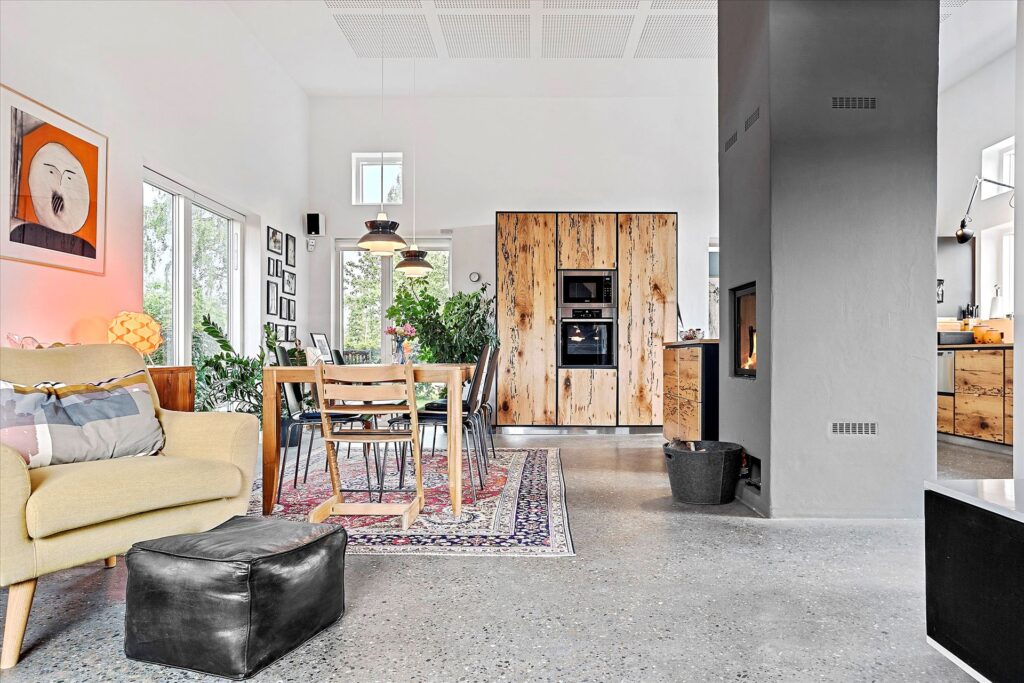 Husets hjerte – køkken-alrummet er meget højloftet og lyst, men fuld af teksturer og stoflighed. Køkkenelementerne danner f.eks. en materialemæssig kontrast til de hvide vægge. Det samme gælder betongulvet. Alt sammen er medvirkende til at danne en uformel og imødekommende atmosfære, der til tider kan være vanskelig at trylle frem i et nybygget eller renoveret hus.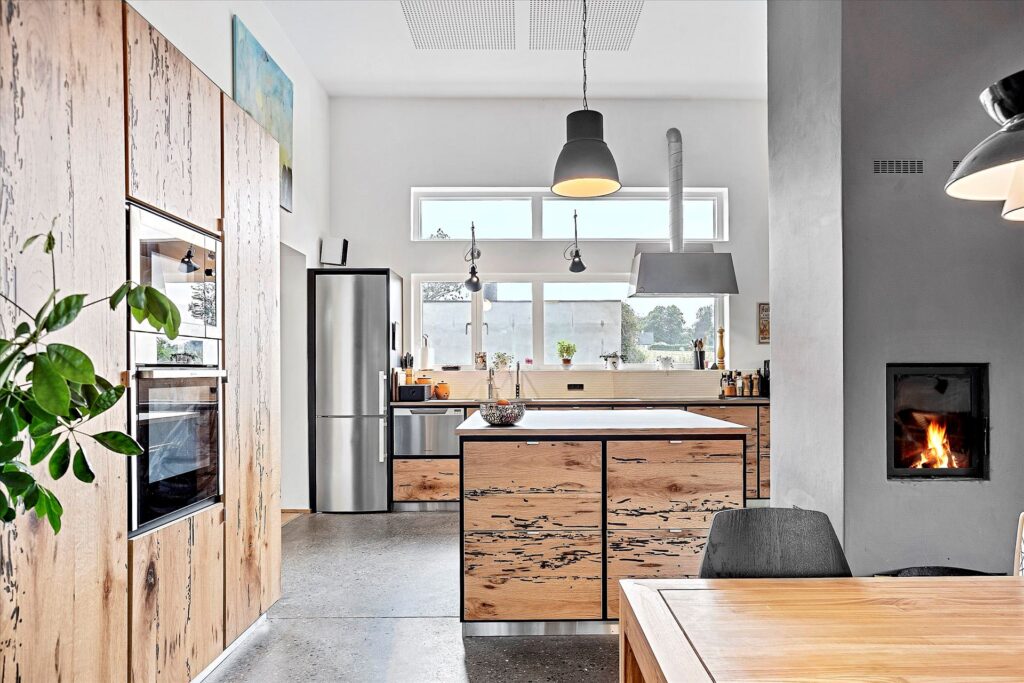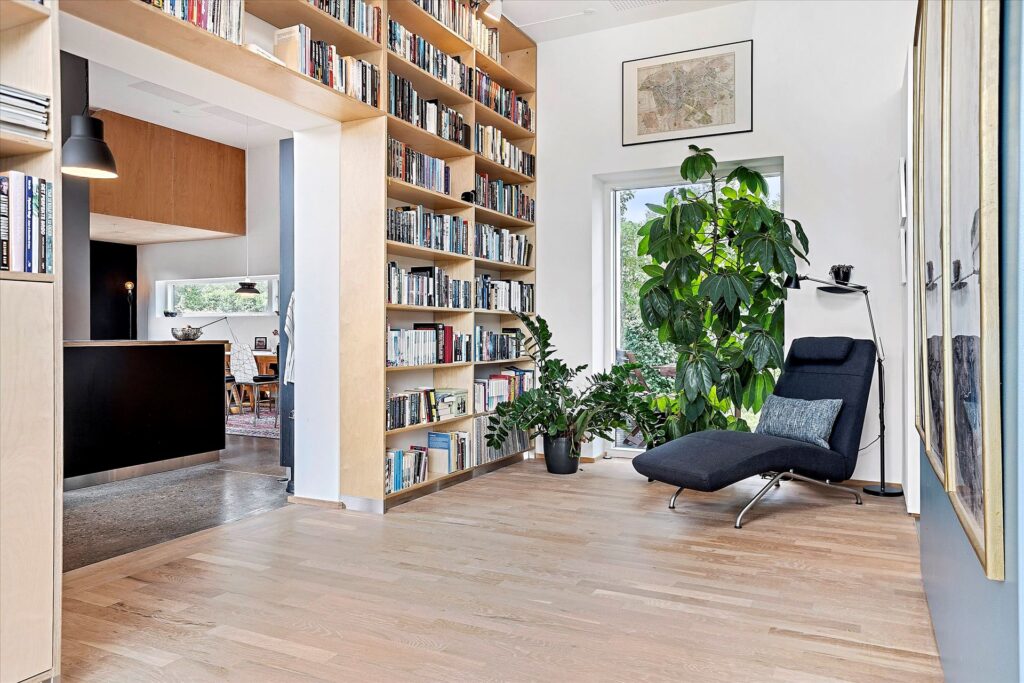 Husets største 'klods', der i to høje etager rummer køkken, stue, værelse og kontor, suppleres af en 'klods' mod vest i én etage. Denne 'klods' rummer værelser og stuen her ovenfor og nedenfor. Væg til væg reolen er et fantastisk interiørelement efter min mening. Det skaber en væg af oplevelser. Både visuelt men også erindringsmæssigt. Det er som en rumlig opslagstavle….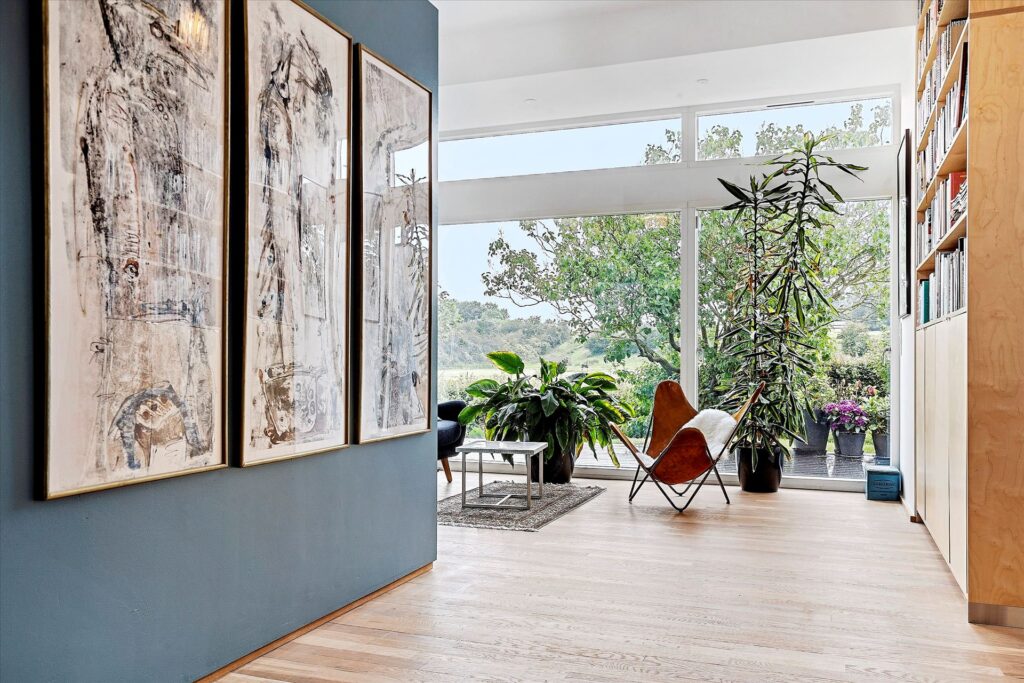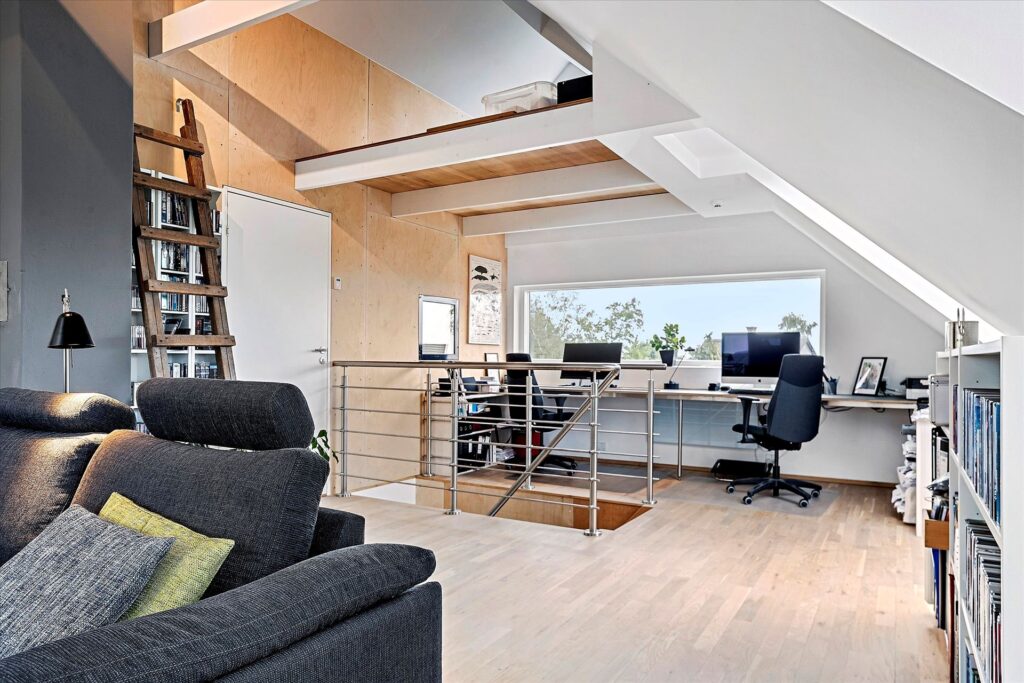 Kontorpladsen på 1. sal i den store 'klods'. Anvendelsen af træfinérplader som vægbeklædning ses efterhånden i flere nybyggede boliger. Pladerne skaber en noget varmere atmosfære end hvidmalede gipsplader. En Kombination af de to som her i rummet giver mulighed for at skabe en et balanceret lysniveau. Her synes jeg, det er lykkedes godt 🙂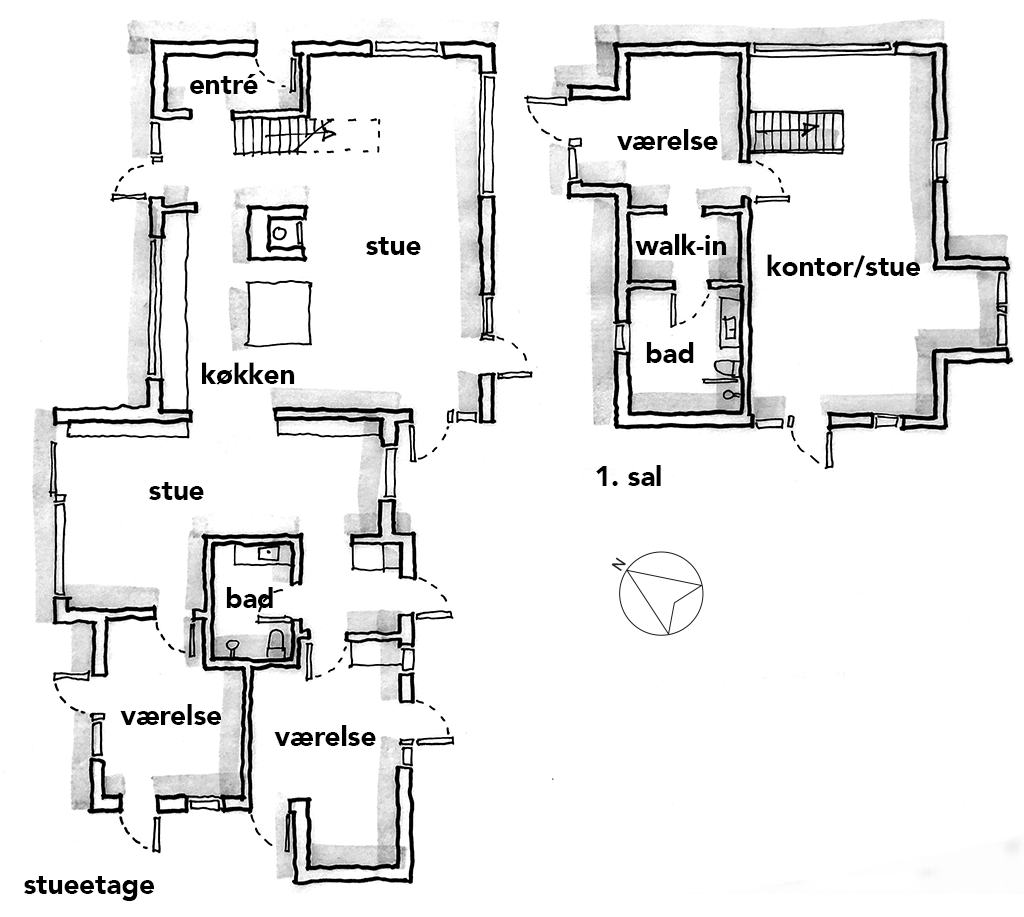 Planskitse over husets 212m2.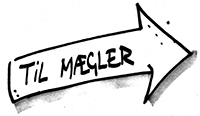 Alle foto i indlægget er fra ovennævnte mægler. Tak for lån 🙂
Se husets placering på Google Maps: